Last Updated on October 28, 2023 by Eden
One of the best things about buying kpop albums is seeing which photo cards you'll pull. If you don't want to spend money buying albums, you might be wondering where to buy kpop photocards by themselves.
There are actually quite a few places where you can find k-pop photocards for sale, online and off. The key is knowing which ones are legit.
Here are some of the best places to buy kpop photocards for your favorite artists, plus some tips on how to get the best deal on photocard purchases.
---
Featured Item: Kpop Journal
Looking for a fun way to keep track of your favorite boy groups or girl groups? Check out this cute kpop journal (download + print or use with Goodnotes!)
---
Table of Contents
Where to Buy Kpop Photocards Online
If you want to get kpop photocards delivered to your door, then you might search online for places to buy them from. Here's where you can find kpop photocards for sale online.
1. Pocamarket
Pocamarket is an online marketplace for kpop photocards. All photocards listed for sale are verified as being 100% authentic.
You can download the Pocamarket app in the Google Play Store or App Store to create a profile, browse photocards for sale or list photocards of your own that you'd like to sell.
2. Hallyu Superstore
Hallyu Superstore sells all kinds of k-pop merch and Korean products, including photocards.
You can find photocards for sale for all of the top kpop boy groups and girl groups. Listings include standard photocards for album inclusions, as well as special edition cards.
For example, these Xdinary Heroes photocards listed for sale were issued as part of an Everline Lucky Draw Event for the group's Livelock comeback.
3. Kpop Exchange
Kpop Exchange sells photocards that are listed as being fanmade. Fanmade photocards are not the same thing as official photocards that are included in albums or as part of special promotional events.
But fanmade cards can still be a cute addition to your kpop photo albums and you can get a pack of 50+ cards for under $15.
4. Kpop 1004
Kpop 1004 sells official photocards for top groups like Stray Kids, IVE and Enhypen.
Cards are reasonably priced here and shipping isn't too bad either. The only downside is that they always have a lot of official photocards for sale to choose from.
​5. Etsy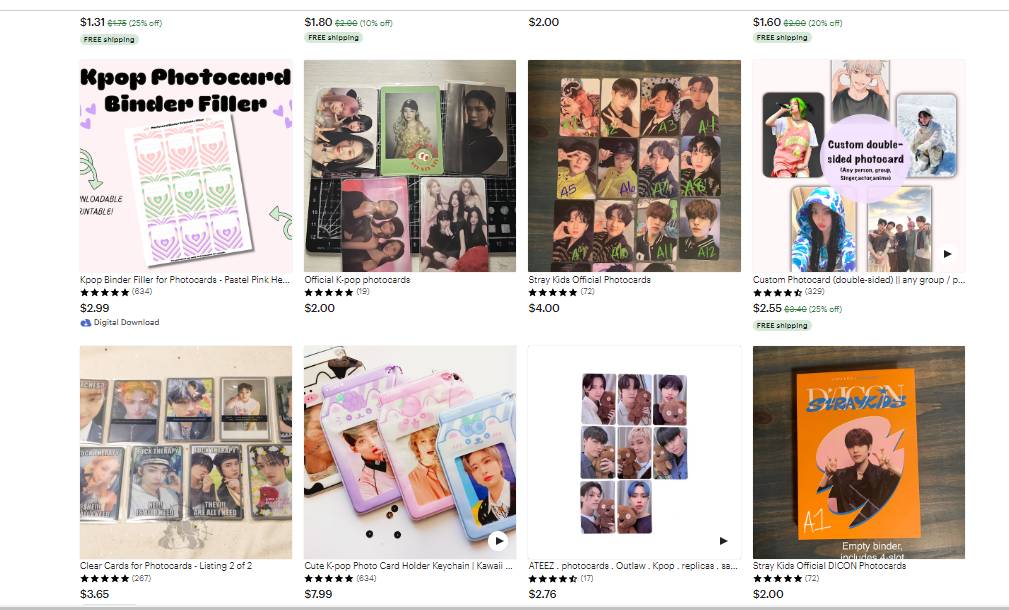 Etsy is technically meant to be a platform for selling handmade and vintage items, but you'll find lots of people selling kpop photocards here. Aside from photocards, you can also find related items including:
When you're buying photocards or anything else from Etsy, take time to read the seller's reviews. Look for sellers that get high marks for fast shipping and excellent service.
6. Mercari
Mercari is a marketplace where you can find all kinds of kpop items for sale, including kpop photocards. You can also list your photocards for sale here if you're trying to thin out your collection.
​Mercari makes it easy to filter search results for kpop photocards by price or condition, so you can find cards that match up with what you're looking for.
7. eBay
You can find lots of kpop photocards listed for sale on eBay, including official photocards and fanmade cards or lomo cards.
When you're shopping for photocards on eBay, it's definitely important to read reviews and check the seller's ratings. While there are plenty of legit sellers doing business here, you want to watch out for scammers and people who are selling counterfeit cards.
8. Reddit
Reddit's r/kpopforsale thread includes listings for people selling different kpop merch, including photocards.
​Before buying from a Reddit seller, check their proofs and policies. They might list their proofs of previous sales on Reddit or on their social media accounts, which can make it easier to determine if they're legit.
9. Instagram and TikTok
Instagram and TikTok are also great options for where to buy kpop photocards.
I follow several photocard sellers and traders on both platforms and it's always fun to watch them packing up their orders. Similar to buying on Reddit, it's important to look at the seller's proofs and overall reputation to make sure you're buying from the right person.
10. Amazon
Amazon can be a good place to buy lomo cards, or unofficial kpop photocards. You can find photocards for just about every kpop group here and it's possible to buy anywhere from three to six lomo card packs together for under $20.
​Again, you're not getting official photocards here. But you might consider buying lomo cards if you want to fill up another photocard binder with some cute pics of your bias.
---
---
Where to Buy Kpop Photocards Offline
If you want to buy kpop photocards offline, you've got a couple of options. The upside of buying offline is that you don't have to worry about paying shipping costs to add a favorite photocard to your collection.
Kpop stores
Kpop stores often sell lomo card packs as well as official photocards. If a kpop store is selling official photocards, they might belong to a fan, not the store.
For example, one of the kpop stores we frequent has two binders of photocards for sale at the register. One belongs to the store but the other one is full of Seventeen photocards that belong to one of the store's customers.
​The difference is that if you buy from the store's photocard binder, the money goes to the store. If you buy from the fan's binder, they get the money.
Shopping at a kpop store for photocards might be a good idea if you're looking for signed merch. Another store we frequent maintains a list of signed photocards for sale on their website and you can also check them out in-store at the register.
Facebook groups
Joining a Facebook group for kpop fans can be another good way to find photo cards for sale. Depending on where you live, you might be able to join a local group that does regular meetups to buy, sell, and trade cards.
You can also look at Facebook Marketplace if there are no local kpop fan groups near you. You might be able to find people selling or trading kpop cards online.
Fan meetings
Going to fan meeting or fan sign can be a dream come true if you'd like to see your favorite idols up close. And it can also be a chance to buy and sell kpop photocards while you're there if you're able to meet up with a fellow collector.
Buying photocards at fan meetings can be a little tricky since you may need to bring cash and you might need to take the seller at their word when they tell you the card is authentic. So if you're considering this option just be aware of the potential risks.
Tips for Buying Kpop Photocards
​As a k-pop stan, you might not have unlimited money to spend on precious photocards, so there's no room to waste money or make a bad purchase.
Here are some smart tips to keep in mind when buying photocards to add to your collection.
Use hashtags to find cards for sale. If you're looking for kpop photocards to buy on social media, you can use hashtags to find them. You can try adding 'WTT' (want to trade) or 'WTS' (want to sell) to the group whose photocards you're looking for. For example, if you want to find Monsta X cards you could search for #monstaxwts or #monstaxsale to find sellers.
Know where sellers will ship to. K-pop photocard sellers aren't obligated to ship to every country and it's a good idea to know if your country is on the list. Generally, if you live somewhere like the United Kingdom, the U.S. or South Korea, you might have a better shot of finding a seller that offers shipping to your country.
Look for sellers that offer free shipping. Getting your kpop photocards shipped free can save you a little money, especially if you're buying from a seller who's located in another country. International shipping can be quite expensive, particularly for k-pop fans in foreign countries that have items shipped from the United States.
Check the seller's reputation. If you're buying from an established website, you may not have to worry about whether the seller is legit. But if you're buying photocards from a seller you found through social media, you may want to check out comments from other buyers in the k-pop community to make sure they're the real deal and not a scammer.
Know what you're getting. If you're buying -pop photocards to add to your precious collection online from an independent seller, read the fine print. For example, are you getting just one photocard or a whole set? Will your purchase include card sleeves? And are the cards a standard size that will fit in a kpop photocard binder?
Check the refund policy. Individual sellers may have a no refund policy on k-pop photocards they sell. If so, that's something you want to know upfront so you can decide if you really want to buy from them.
Shop around and compare prices. Prices for different types of kpop photocards can vary; the basic rule is that the rarer the card is, the more it'll cost. Cards from popular groups that are in excellent condition can also be more expensive than ones that have a little wear and tear. If there's a specific card you've got your eye on, it may be worth looking around to see if more than one person is selling them and if so, who has the best price.
Bonus tip: Buy from sellers who offer freebies to fellow fans!
Sellers aren't required to include freebies when you buy kpop photocards (or any other kpop merch) but it's always nice getting something a little extra in your package. Some of the most popular traders and sellers on TikTok and Instagram include a ton of cute freebies to make each order extra special.
Final Thoughts
Knowing where to find kpop photocards for sale is a must if you're trying to build out your collection. It can get a little confusing with so many different options to choose from. But researching where to buy different types of kpop photocards and what you'll pay can help you figure out which ones are worth your time and money.
Do you have any other suggestions for where to buy kpop photocards?
---
Save 10% in the Cute Frog Creations shop when you join our email list!
And get the latest blog posts + updates delivered to your inbox!
---