Last Updated on May 28, 2023 by Eden
K-pop concerts are a chance for k-pop fans to see their favorite artists up close. If you're going to a k-pop show for the first time, you might not know what to expect.
Aside from figuring out ticket sales and what to bring, you might be wondering: How long are kpop concerts?
A typical kpop concert lasts two to three hours, starting from the moment the first song begins until the artist or group leaves the stage after their final encore performance. The bigger the concert and the more acts that are scheduled to perform, the longer the concert will be.
If you're prepping for a kpop concert, it's a good idea to know how much time you'll spend at the concert venue on the day of the show.
---
Featured Item: Kpop Journal
Looking for a fun way to keep track of your favorite boy groups or girl groups? Check out this cute kpop journal (download + print or use with Goodnotes!)
---
Table of Contents
How Long Do Kpop Concerts Last?
The length of a k-pop concert can depend on several things, starting with the number of artists that are performing. A concert that features a single kpop boy group or girl group may last two to three hours at most. Kpop festival concerts or conventions that feature multiple k-pop idols, on the other hand, can last anywhere from four to eight hours and span across multiple days.
The format of a k-pop concert can also influence how long it lasts. Some k-pop groups or soloists bring special guests or opening acts along to perform at different stops during their live tour.
For example, when ATEEZ launched its Break the Wall North American tour in the fall of 2022, their junior group KQ Fellaz 2 kicked off the show as the opening act.
The group performed two songs, "Geek" and "Tricky House", to help get the crowd warmed up for the main act. Previously, ATEEZ invited fellow KQ Entertainment label-mate Maddox to perform on selected dates during its Fellowship: Beginning of the End world tour.
Opening acts aren't always standard, however.
For example, neither Stray Kids nor Monsta X brought an opening act along when they visited the United States for their respective 2022 tour dates. And of course, ARMY who attended the BTS concert dates in San Jose didn't see any opening acts either.
Related post: Kpop Concerts Near Me: Free Kpop Concert Locator
How Long Are Kpop Festivals?
Kpop festivals are a chance to see all your favorite k-pop artists in one place. These live events may run for several days, with multiple idols performing each day.
For example, KCON Los Angeles is a multi-day event that offers kpop fans a chance to see all their favorite idols perform. The 2022 concert saw featured artists like ATEEZ, Cravity, Enhypen, StayC and Itzy take the stage across two different days.
Kpop festivals don't always go as planned, however. Sometimes festivals can run long, especially if they include a fansign event, but they can also get cut short.
KAMP LA was also a multi-day event that was scheduled to be held in the Rose Bowl Stadium. Originally, the 2022 artist lineup for this super show included Super Junior, Monsta X, Jeon Somi, Aespa, Epik High, Bambam and Kai.
The event was hyped up on social media, however, scheduling issues put a damper on the fun and several artists canceled their planned appearances. Despite allowing the remaining acts to extend their setlists, the event still ended about two hours early to the disappointment of fans.
How Do Kpop Concerts Work?
Kpop concerts tend to follow a specific format, which might be different from other types of concerts you've been to. The format can determine how long kpop concerts last.
When you enter the venue, there may be one or more large screens on or around the stage playing music videos of your favorite group. At the time the show is scheduled to begin, your favorite group will take the stage and perform the first one to three songs on their setlist.
After the initial songs are finished, the group will usually introduce themselves with their official greeting. They'll then go down the line and each member will introduce themselves and say hello or offer a comment to the crowd to get them pumped up for the show.
Once the introductions are over, the group will perform the next group of songs. Depending on the group, there may be special performances mixed in throughout the show.
For example, as part of their U.S. tour, Seventeen did a special performance of Snap Shoot that put the spotlight on fans and showcased their dance moves. Monsta X included solo performances in their North American tour, which allowed each member a chance to show off their skills individually.
didn't even realize til now i also got seokgyu (and also seungkwan) losing it over that poor girl who almost lost her shirt 😭 #SEVENTEENinAtlanta pic.twitter.com/xDhs3wnj6T

— casey 🌈✨ (@jopaholic) August 31, 2022
In between songs, members may chat with the audience or each other. They may also do skits to liven up the crowd and make sure everyone is having a good time.
The venue may play video reels while the group members head offstage to do a sudden change of outfit, get their makeup and hair refreshed or simply get some water and catch their breath.
Near the end of the show, the group will perform its "last" song and offer ending comments or "ments". Then they'll head offstage to prepare for the encore.
While they're backstage during this time, it's not unusual to hear the crowd doing fan chants to call them back out. Or they may simply chant the group's name over and over. 
Fans might do a lightstick wave as well, which is even more fun when concert venues sync up all of the light sticks together. It's amazing to see an ocean of lights moving as one.
After a few minutes, the group will come back out to the stage to perform their final songs. At this point, it's common to see them trade their flashy stage outfits for jeans and t-shirts. They'll perform two to three more songs, then get ready to say their final goodbyes to the crowd.
Depending on the mood and the group, they might end things with an upbeat song. Or they might choose a more sentimental song that has special meaning for their fans.
(As an example, Ateez closed their Fellowship: Beginning of the End tour with "Star 1117", a special song written for their fans. But during the Break the Wall tour, they wrapped up with "The Real", which is a high-energy bop.)
Once the group leaves the stage again, the house lights will come up and the concert is officially over.
At this point, you might be leaving the venue. But if you paid for hi touch benefits, you'll stick around a little longer.
The hi touch is when fans line up to say goodbye to their favorite group.
Depending on the group, the members may be behind a clear plastic barrier and wave to fans as they file by. Traditionally, though, hi-touch is a chance for fans to briefly high-five each member of the group.
What to Expect at a Kpop Concert?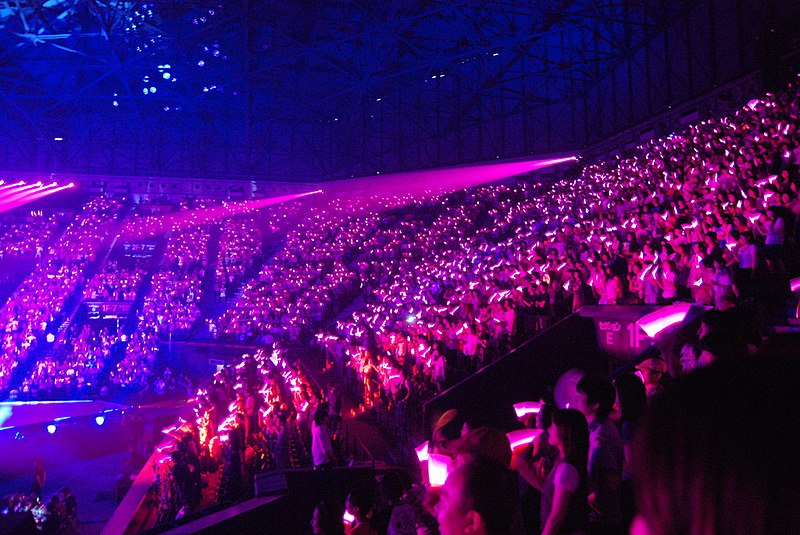 K-pop events offer a chance to have some amazing personal experiences seeing your favorite artists live while potentially meeting some new k-pop besties. Aside from knowing how long the concert itself will last, it's also a good idea to know what to expect before and after the show.
Concert venues usually open their doors 1 to 1.5 hours before the show begins. So if your concert tickets say the show starts at 7:30, the doors might open at 6:00 or 6:30.
That's if you're buying general audience tickets. If you're dropping extra cash on VIP tickets, then you might be able to get into the venue earlier in the day.
That's because VIP tickets offer special benefits, like access to the soundcheck before the show begins. You may also have a chance to upgrade to hi-touch benefits.
So what time should you plan to get to the venue for an upcoming concert?
If you're VIP, then you may arrive as early as 8 or 9 in the morning in order to get lined up early so you have a shot at getting as close to the stage as possible.
Keep in mind that lots of concert venues ban camping overnight so if you're considering that, before sure you know what is and isn't allowed. The last thing you want is to get kicked off the property or worse, arrested for trespassing.
When you've got regular tickets to the show, you may want to get there one to two hours early. That gives you enough time to:
Double-check your fit (check out these ideas for the perfect outfit to wear at a kpop concert!)
Find a place to park (or make your way to the venue via public transport)
Get in line
Pass through metal detectors and bag checks, which are almost always required at kpop concert venues
Get something to drink or a snack
Hit the merch line
Make a last-minute bathroom stop
Find your seats and get ready for the show
Once the show is done, it might take another 30 minutes to an hour to get out of the parking lot if you drove your own car or catch a ride with Uber or local transport.
If you're heading to a live performance in a new area, it's a good idea to map out the parking situation beforehand if you plan to drive.
Some ticket sellers, like Ticketmaster, allow you to purchase parking passes when you buy your kpop concert tickets. You'll get one email with a ticket link to show at the door and a separate email with your parking pass.
In terms of how long are kpop concerts, you could easily end up spending the entire day at the venue if you're going VIP. If you're sticking with general admission, then you might be looking at five to six hours total.
---
💖Custom Kpop Lightstick Straps💖
---
How to Prepare for a Kpop Concert
Spending all day or just half the day at a kpop concert can wear you out if you're not careful. There are plenty of horror stories from fans who have bad experiences at a kpop show because they just weren't prepared.
Having a simple kpop concert checklist to follow can help you to have the best time possible and make the most of your time.
Tip#1: Stay hydrated
If you'll be standing outside in line for several hours, make sure you have enough water so you don't get overheated or dehydrated.
We went to see TXT perform in Atlanta in mid-July 2022 and it was sweltering. Fans who'd been there all day were red-faced and sweating, and water was in short supply.
Just keep in mind that you may not be able to bring outside food or drinks into the venue with you.
Tip #2: Pick the right outfit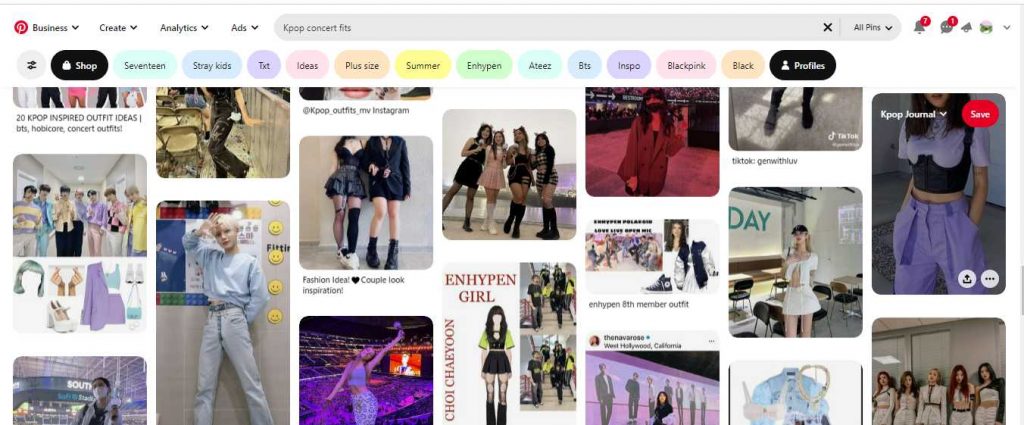 If you go to kpop concerts on a regular basis, you probably know that there are some things you shouldn't wear. Looking cute (or sexy or whatever you want) matters but it's also important to choose an outfit that's comfortable and practical.
For example, you might want to rethink a miniskirt and fishnets if you're going to a kpop show in New York City in the middle of winter. Your aesthetic might slay but that may not be worth freezing in the cold all day.
Tip #3: Pack your kpop concert essentials
Most concert venues allow you to bring in a clear stadium bag to hold your personal belongings. Some of the most important things to bring to a kpop concert include:
Your phone (so you can get some great photos, duh)
Cash and a credit card or debit card (as more venues are going cashless)
Your tickets (which may be on your phone if the venue uses a QR code to scan you in)
Your lightstick (unless you're buying a kpop lightstick at the concert)
A portable battery charger for your phone
Backup batteries for your lightstick
Breath mints or gum so you don't get dry mouth from screaming
Concert venues may ban you from bringing certain things in.
For example, fans who attended the BTS Permission to Dance shows were prohibited from bringing in professional recording equipment. Plenty of venues also ban selfie sticks. But those are to be expected if you're attending one of the biggest tour events.
And of course, you're not allowed to bring in weapons, illegal drugs or alcohol. You may, however, be able to purchase alcohol at the venue if you're 21. That goes for the United States; if you're attending a kpop concert in South Korea the drinking age is 19.
Final thoughts on how long are kpop concerts
If you're going to your first kpop concert, you might have high expectations for the show. Knowing how long the concert should last can help you plan your day from start to finish. And whether you're going to a rap concert featuring an artist like Mark Tuan, seeing a soloist like Eric Nam or Sunmi perform, or queuing up for a kpop show featuring your favorite group, remember that the most important thing is to have fun on the big day.
---
Save 10% in the Cute Frog Creations shop when you join our email list!
And get the latest blog posts + updates delivered to your inbox!
---
What are your thoughts on how long are kpop concerts?