Last Updated on April 16, 2023 by Eden
Looking for ideas on what to wear to a kpop concert?
Seeing your favorite groups perform at a k-pop show or connecting with them at a fan meeting can be a dream come true. And in k pop culture, having the perfect outfit to wear to those events is a must.
So what do you wear to a k-pop concert? And is there anything you shouldn't wear?
Today, we're sharing our best tips on what to wear to a kpop concert, along with a few outfit ideas to inspire your fashion choices.
---
Featured Item: Kpop Journal
Looking for a fun way to keep track of your favorite boy groups or girl groups? Check out this cute kpop journal (download + print or use with Goodnotes!)
---
Table of Contents
How to Decide What to Wear to a Kpop Concert
Seeing k-pop groups live is an unforgettable experience so you want to look your best. And choosing a kpop outfit for a concert isn't that different from deciding what to wear to a rock concert or any other concert.
Before we look at inspiration for k-pop outfits, here are a few starter tips to help you decide what to wear:
Keep it simple
A killer outfit is sure to get you noticed by other k-pop fans and possibly even your k-pop idols if you're close to the stage or attending the hi-touch afterward.
But remember that you're going to be in a crowded room with lots of people for hours and the last thing you want is to have to make constant adjustments to your outfit the entire time.
So whether you're planning to wear something cute, sexy or concept-specific, remember to keep it low maintenance.
Dress for the weather
When you're going to your very first kpop concert, you might not know what to expect where the weather is concerned. If you're going to be outside in line for a long time or tailgating for several hours before the show, you'll want to wear clothes that are designed to keep you cool or warm, depending on the weather.
So if it's the middle of summer, for example, you might want to skip heavier items like denim jackets or sweaters. But a pair of jeans and a heavy coat can be your best friend if you're shivering outside the venue in the middle of January.
Pick the right shoes
Wearing your tallest high heels or platform shoes can help you get a better view. But they can get uncomfortable fast and no one wants to leave a kpop show with sore feet.
A smart k-pop fan knows that comfortable shoes are best, especially if you're going to be on your feet for several hours.
Choose the right bag
Every concert venue is different when it comes to bags. Some require clear bags; others don't but bags might be limited to a certain size.
So check the bag policy first. And if bags are allowed in, you can't go wrong with a small crossbody bag to hold your kpop concert essentials.
---
Stick with waterproof makeup.
Kpop concerts can get hot, which can cause you to sweat. Or you might cry if your favorite k-pop star shares a meaningful ment toward the end of the show. So waterproof makeup is a must and you can match it to your outfit to complete the look.
Skip the wigs
If you're going for a super conceptualized kpop concert look, then a wig might be essential for your outfit. But consider how comfortable it's going to be to wear if you're in a hot, crowded venue for hours.
And if you do wear a wig, be sure it's secure so you don't have the same experience this BTS ARMY did at soundcheck.
Do a test run
When you're planning to try out a brand new look at a kpop show, it's helpful to do a test run first. Try wearing your complete outfit for a few hours at home to see how wearable and comfortable it is.
It's also a good idea to take pictures of the outfit from different angles to get a better idea of how it looks. And you can ask your kpop bestie for their opinion on how it looks.
Consider the price tag
If you're putting together a unique outfit to wear to a kpop concert, ask yourself how much you're willing to spend on it.
A new black leather jacket and skinny jeans are things you can wear to places other than a concert, so you're more likely to get your money's worth. But if you're picking something that's specific to a single concert, ask yourself what you'll do with it once the show is over.
Related post: What Not to Wear to a Kpop Concert (2023 Ultimate Fan Guide)
K-Pop Concert Outfit Ideas
If you're looking for ideas on what to wear to a kpop concert, social media can be a great way to get inspiration. Pinterest, Instagram and Twitter are some of the best places to look for kpop concert outfits to wear.
Here are a few ideas to get you started!
1. Replicate an outfit from your favorite music video
Outfits that echo the concept of a kpop group's music video are a popular choice. When Ateez was in North America in early 2022, for example, it was not unusual to see fans dressed in a black ensemble to match the "Hala Hala" MV vibe.
I'm not surviving this concert. RIP #ATEEZWORLDTOUR2022 #ATEEZ #ATINY #ATEEZCHICAGO #HALATEEZ pic.twitter.com/iO9txMVUvR

— Jenn (@KwynJae) January 18, 2022
If you're a girl group fan, then your look might be totally different.
For example, you might favor high waist denim shorts similar to what Blackpink wore in the "Pink Venom" music video.
Or you may want to go with gym shorts and knee socks like Red Velvet in "Russian Roulette".
2. Dress like your favorite k-pop idol
Another idea for what to wear to a kpop concert is an outfit that reflects your favorite idol's personal style.
Some kpop idols are known for being fashion icons. Jennie is one; V from BTS is another.
Studying your idol's personal style can help you figure out what kind of outfit to wear.
3. Show your softer side
A kpop concert is a mix of different types of k-pop fans. Some fans want to look sexy, others want to look sweet.
If you're more on the soft stan side, then you might want to go with a heartcore-type look.
For example, you could wear a pleated skirt with knee socks and a cute crop top sweater with a white shirt underneath. And outfits that mimic school uniforms in pastel tones are always a popular choice.
4. Color-code your outfit
Many kpop groups have their own colors. For example, Seventeen's colors are rose quartz and serenity, which are a light pink and a light periwinkle blue.
Wearing an outfit that's themed around your group's colors is a great way to show your support and solidarity with the fandom. And you can even dress up your light stick to match by adding a cute personalized lightstick strap!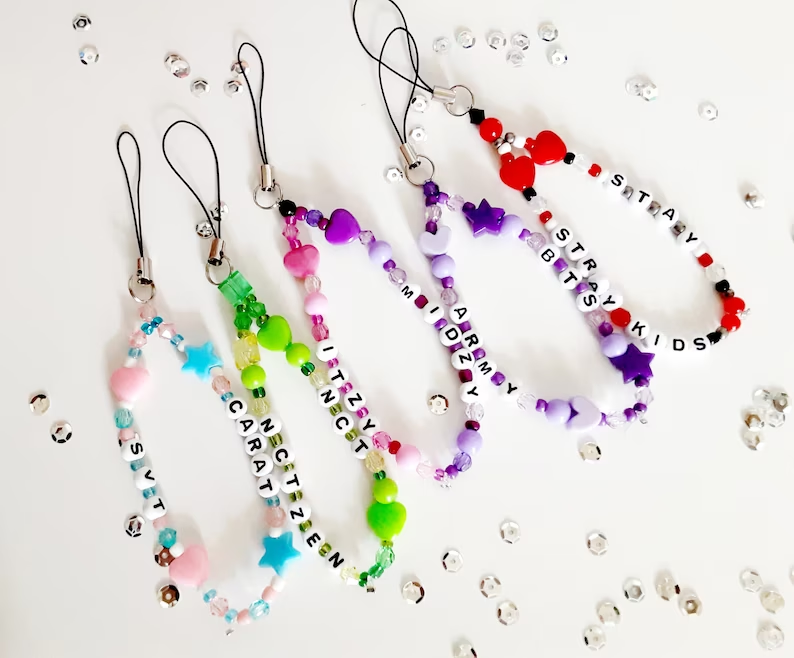 5. Think outside the box
Kpop outfits aren't limited to denim shirts or pleated skirts. You can also do something totally different and wear a costume or cosplay.
Check out this CARAT's outfit from Seventeen's August 2022 show in Atlanta, which got them noticed in a big way.
---
What Not to Wear to a Kpop Concert
Some clothing items might look great but they may not be comfortable to wear. Or they may be inappropriate to wear to a fan meeting if your favorite boy group or girl group has underage members.
The list of things you shouldn't wear to see your favorite kpop group includes:
Flip flops or open-toed shoes
Clothing with chains or pieces that could get caught on other people
Oversized hats that could rob people behind you from getting a better view
Lingerie or see-through clothing that exposes private parts
Anything with spikes (concert venues usually ban them anyway)
Clothing with explicit or offensive imagery or wording
You can check with the concert venue to see if there's a specific dress code. For example, the venue might ban string lights specifically or oversized bags.
Cameras are not a clothing item but those might also be prohibited. For example, the spring 2022 BTS concert at Allegiant Stadium in Las Vegas prohibited video cameras and professional cameras of any kind.
Related post: Kpop Concert Etiquette: 10 Things Kpop Fans Should NEVER Do!
What Should You Bring to a Kpop Concert
Aside from an amazing outfit, there are some other things you'll want to bring to have the time of your life at a k-pop show. Some of the things to bring to a kpop concert include:
Your tickets
Enough water to stay hydrated if you're standing in line for several hours
Sunscreen if it's an outdoor concert venue
Banners, if the venue allows them
Your phone and a portable charger
Money to buy merch at the show (unless you're planning to buy merch at a local kpop store)
It's a good idea to check beforehand to find out if the concert venue accepts cash or requires credit cards to pay for merch and concessions. Some venues, like the Prudential Center in New Jersey, have a cashless policy.
And of course, you'll want to learn your fan chants before you go!
---
---
Final thoughts on what to wear to a kpop concert
The great thing about k-pop fashion is that there's a lot of variety. There are countless kpop concert outfits to choose from and you can experiment with different looks for each show you attend. At the end of the day, figuring out what to wear to a kpop concert all comes down to your personal style and fashion sense. And remember, you don't have to look like a fashion icon to enjoy live music from your favorite idols.
---
Save 10% in the Cute Frog Creations shop when you join our email list!
And get the latest blog posts + updates delivered to your inbox!
What tips do you have on what to wear to a kpop concert?