Last Updated on March 26, 2023 by Eden
Any time a kpop group drops tour dates, fans all have the same question: Where can I buy k-pop concert tickets?
K-pop fans have two options for buying tickets to k-pop concerts: Purchase them online or buy them in person at a ticket outlet near you. Where you decide to buy tickets to see your favorite k-pop acts in person can depend on where you live and which artist you're planning to see.
If you're planning to go to your first kpop concert, buying tickets can be a little overwhelming. So today, we're sharing tips on how to get k-pop tickets and score the best seats for your money.
---
Featured Item: Kpop Journal
Looking for a fun way to keep track of your favorite boy groups or girl groups? Check out this cute kpop journal (download + print or use with Goodnotes!)
---
Table of Contents
Where Do People Buy Kpop Concert Tickets?
People typically buy tickets to kpop concerts online since it can be the most convenient way to purchase them. You can buy tickets from home, which for most people is probably preferable to standing in line at a ticket outlet.
There are different ticketing websites where you can buy kpop concert tickets. Concert organizers partner with ticketing agents to make tickets available to k-pop fans.
Here are some of the most popular websites for buying kpop concert tickets.
1. Ticketmaster
Ticketmaster, which is part of Live Nation Entertainment, is the largest ticketing services provider in the world. The company operates in more than 30 countries across North America, Latin America, Europe and Australia.
Is Ticketmaster trustworthy?
It's an established marketplace for buying kpop concert tickets and tickets to other types of events. We've purchased official tickets and resale tickets through Ticketmaster to see Ateez and Seventeen on their U.S. tour dates in Atlanta with no issues.
However, a quick read-through of customer ratings shows that not everyone is satisfied with how the company handles ticket sales. For example, some fans accused the platform of price-gouging in connection with Blackpink's Born Pink World Tour in 2022.
Pros
All Ticketmaster tickets, including official tickets, VIP kpop tickets and resale tickets, are guaranteed.
Fans can use an interactive seating chart to choose their seats.
Ticketmaster sells tickets for top kpop boy group and girl groups.
Exchanges and upgrades are allowed.
Electronic ticket delivery.
Purchase parking passes with your ticket (if offered at the venue).
Cons
Ticketmaster charges steep processing fees, which can add to kpop ticket prices.
There's a strict no-refund policy.
2. AXS
AXS is an American ticket outlet that sells tickets to entertainment events, including kpop concerts, and sporting events. You can buy official tickets and resale tickets to see your favorite k-pop artists through the platform.
Ticket options include:
Standard tickets
Premium tickets
VIP tickets
Special VIP tickets
Similar to Ticketmaster, you can get tickets delivered to your phone. That's a plus since many concert venues now require you to scan your tickets via QR code versus bringing in a paper ticket.
We've also used AXS to buy resale tickets to a different Ateez show and again, had no issues with our experience.
Pros
AXS guarantees every ticket is 100% valid.
The ticketing process is fairly straightforward.
Fans can choose their seats using an interactive seating chart.
AXS sells tickets for plenty of global k-pop stars and music festivals.
Refunds may be issued under certain conditions (such as cancellation of the event).
Cons
There may be limits on the number of tickets you can buy at one time.
It's sometimes hard to find cheap tickets from resellers here.
3. VividSeats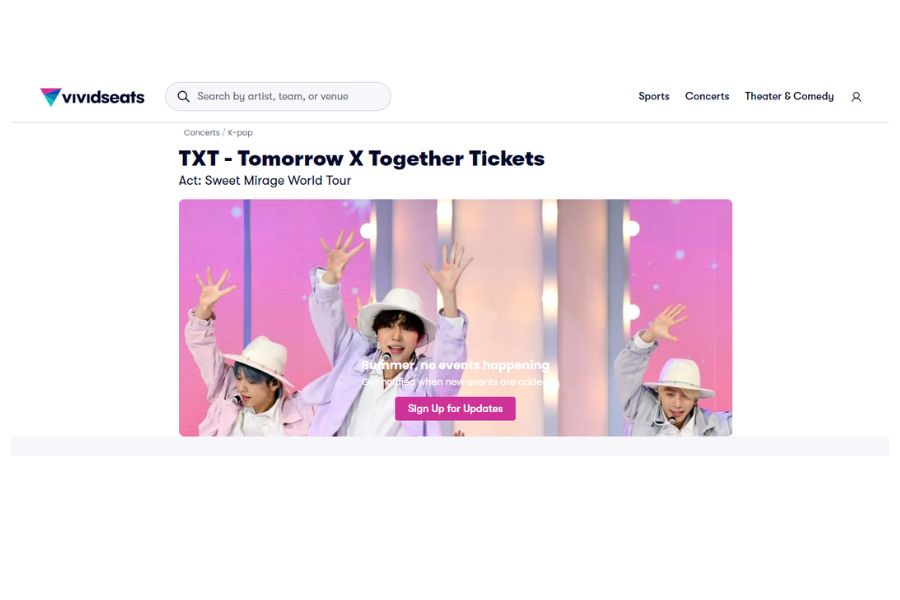 VividSeats is another top ticket seller for kpop concerts. You can search for tickets from a list of cities or the names of your favorite groups and new dates are being added to the site all the time.
We've personally never used VividSeats to purchase tickets for any k-pop concert dates, so we don't have a firsthand experience with this one. We checked customer ratings to see what other k-pop fans are saying and it's a mixed bag.
For example, VividSeats has a 2.7-star rating on Trustpilot. That's something to keep in mind if you're using it to buy kpop tickets for your first concert.
Pros
All tickets are guaranteed by VividSeats.
Payment portals are secure and you can pay with a credit card or debit card.
VividSeats partners with Klarna so you can pay for kpop concert tickets over time.
A lengthy list of international k-pop group acts sells tickets here.
Fans get a secure ticket link delivered to their accounts when tickets are ready.
Cons
Refunds are only offered for events that are canceled.
Service fees can run as high as 40% of the ticket price.
4. StubHub
StubHub is a ticket reseller. People buy kpop concert tickets or tickets to other events elsewhere, then list them for sale here.
For example, we checked out the site to see what was selling this month and found tickets for the NCT 127 2nd World Tour. (Sorry Dreamies, no tour dates for NCT Dream yet.)
Tickets were surprisingly inexpensive, which is great if you're looking for cheap tickets to see your faves. The seating chart is really detailed so you can specify exactly what kind of tickets you're looking for.
Pros
A good option for buying resale tickets close to their original face value.
Wide variety of ticket options for different groups and soloists.
FanProtect Guarantee ensures that your tickets are verified and legitimate.
Resale tickets are delivered via a verified ticket link.
Tickets are offered for tour dates in various cities.
Cons
StubHub does not offer refunds of any kind.
5. Viagogo
Viagogo is another option for buying resale kpop tickets. You can search by kpop artist and city to find tickets for sale.
One nice thing about Viagogo is that you can see exactly how many tickets are for sale and the capacity of each venue. And the interactive seating chart is really detailed.
For example, if you were planning to see Kang Daniel at the Los Angeles or New York stops of his 2023 North American tour, you could search for seats in different sections at each venue, get insight into what kind of view you'll have and see how many tickets are remaining for that section.
Pros
A detailed interactive seating chart makes it easy to find seats.
Find tickets to an exciting lineup of events featuring different kpop artists.
Purchase parking passes with your ticket where available.
Buyers are guaranteed to receive valid tickets before their event.
If you have a problem with your ticket, Viagogo can replace it or issue a refund.
Cons
Steep booking fees.
Some kpop fans have complained about issues with Viagogo's ticketing.
---
💖Custom Kpop Lightstick Straps💖
---
---
Where Can You Buy Kpop Concert Tickets in South Korea?
If you'll be seeing your favorite South Korean group (or soloist) in South Korea, you've got a few more options for buying concert tickets. They include:
You'll need to create an account with the ticketing outlet you plan to use. Also, keep in mind that you might need a Korean bank account to buy your tickets. It's a good idea to read through each site's ticketing policy beforehand so you're not left out in the cold when tickets go on sale.
Tips for Buying Kpop Concert Tickets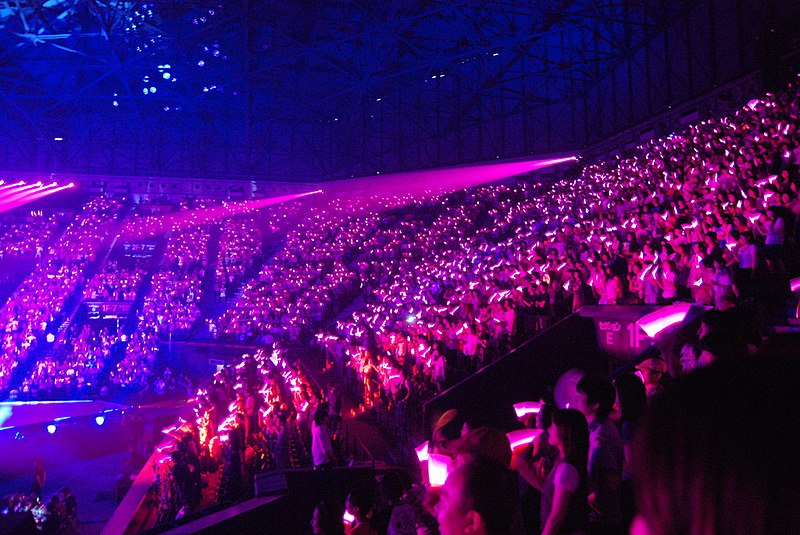 If you're ready to see your favorite groups or soloists in person, it helps to know how to prepare for ticketing, especially if it's your first time. So here are some tips for buying tickets for kpop concerts (and fan sign events).
Know where tickets are sold. If your faves announce an upcoming tour, the first thing you'll want to find out is who's handling ticket sales. Some kpop concerts sell tickets on more than one site, so it's a good idea to check out multiple ticketing platforms.
Register for an account. Creating an account on the ticketing site can save you time and stress when you're in the queue trying to add tickets to your cart. If your contact information and credit card information is already on file, you don't have to worry about fumbling to enter those details and losing your seats.
Sign up for email notifications. If the ticketing agent allows you to register for email notifications, get on the list. Last year, we were able to get great seats for a kpop show because the ticketing site emailed me the moment they went on sale. I'd assumed the tickets would sell out and was planning to buy them through a reseller but opting in to receive emails saved me some cash.
Weigh membership carefully. Purchasing a fan membership for your favorite group can offer certain perks, including presale access when concert tickets go on sale. However, that doesn't guarantee you'll get a ticket so it's important to consider the cost of membership to decide if it's worth it.
Scope out the ticketing site beforehand. If you're buying kpop concert tickets for your first tour, take time to learn how the ticketing site works. Experiment with the seating chart for another event to get an idea of where you might end up. You can also use a site like A View From My Seat to check the view for different parts of the venue.
Note the time. You'll need to know exactly when tickets go on sale so you can be in the queue and ready to go well beforehand. Remember to check to see when ticket sales begin your local time so you're not too early or too late.
Consider buying in a group. If you're going to a kpop concert with friends, you can increase your odds of getting tickets by having everyone sign up for their own accounts with the ticketing site. If one of you snags tickets while you're all in line, everyone else can release their seats.
Create multiple accounts. A lot of kpop fans will say that logging in to multiple devices can boost your odds of getting tickets. And that can work, but only if you're creating different accounts with unique information for each one. Otherwise, trying to log in on your phone, laptop and iPad using the same email could get you booted out of the system.
If you're hoping to buy VIP tickets to a kpop concert, there's no secret other than you'll have to be fast and maybe a little lucky, too. VIP tickets and premium packages usually sell out the fastest.
Related post: What Is Hi Touch Kpop? [Ultimate Fan Guide]
Should You Buy Resale Tickets to a Kpop Concert?
If you're not able to snag tickets to a kpop concert when they first go on sale, you might consider buying resale tickets. Again, these are tickets someone else purchased and is reselling through a platform like Ticketmaster or AXS.
Having purchased resale tickets to see TXT and Ateez, we can tell you that there are some pros and cons.
Here are the benefits of buying tickets for kpop concerts through resellers:
Buying resale means you can still see your faves in concert, even if you missed the initial round of ticketing.
Sites like Ticketmaster, StubHub and AXS verify resale tickets to help you avoid getting scammed.
There's less pressure to buy since you're not waiting in a long ticketing line.
You can take your time and check out different options for seats and ticket tiers.
Now, what's bad about buying resale tickets? A few things:
You might end up paying a LOT more for resale tickets.
Ticket and seating options might be limited.
VIP ticket benefits don't always transfer when reselling.
While plenty of resellers are legit, there are lots of scammers too.
If you're going to buy resale kpop concert tickets, do your research.
Check out the site the tickets are being offered on and their policies for reselling. Compare the cost of the resale tickets to the original face value of the ticket. If you're trying for VIP, contact the venue to find out if those benefits will transfer.
Finally, be wary of people reselling tickets on Twitter or other social media platforms. It's all too easy to get scammed out of your money only to end up with fake tickets or no tickets at all.
Kpop Concerts Near Me
Wondering which kpop artists are going on tour in 2023? You can Google 'kpop concerts near me' to see what might be headed to your area.
Here's a quick rundown of confirmed and rumored ongoing and upcoming tours.
Ateez (European tour)
Stray Kids (including rescheduled dates for their 2022 MANIAC tour)
Tomorrow X Together
Jackson Wang
The Rose (Heal Together World Tour)
Epik High (back after a brief hiatus)
NCT 127 2nd Tour 'Neo City – The Link'
Itzy 1st World Tour
ONEUS (first world tour)
Tan
Twice (rumored)
Just B (Latin America tour)
Kisu (Beyond World Tour)
Kang Daniel (First Parade World Tour)
P1Harmony Live Tour
OnlyOneOf Grand America Tour
Lim Young Woong
Blackpink Born Pink World Tour
pH1 About Damn Time Tour
Loopy DEPARTED Tour
AOMG tour featuring South Korean soloist lineup of Simon Dominic, Leehi, Yugyeom, Gray and Loco
Former CEO of JYP Entertainment Park Jin-young is also set to hold a handful of concerts in support of his single, "Groove Back". Dates are currently set for Brooklyn, New York and Los Angeles. Epex was set to kick off a North American tour but those dates have been canceled.
Final thoughts on how to buy kpop concert tickets
If there's anything better than seeing your favorite artists in the Billboard charts, it's seeing them perform live and in person. Knowing where and how to buy tickets to a kpop concert can ensure that you have an amazing time while getting to see your bias up close.
---
Save 10% in the Cute Frog Creations shop when you join our email list!
And get the latest blog posts + updates delivered to your inbox!
---
Where will you buy tickets to your next kpop concert?