Last Updated on March 26, 2023 by Eden
When you're planning on going to a kpop concert, one thing you'll have to decide is what kind of ticket package to buy.
You could go with regular seats or you might decide to upgrade to VIP tickets instead. Splurging on VIP packages can give you access to the sound check event before the live performance begins.
Attending a kpop sound check can help you snag a good spot if floor seating is standing room only. VIP ticket holders can also unlock other perks like unique gifts or access to the hi-touch event once the show is over.
Knowing what to expect and how much you might pay for sound check access can help you decide whether upgrading kpop concert tickets is worth it.
---
Featured Item: Kpop Journal
Looking for a fun way to keep track of your favorite boy groups or girl groups? Check out this cute kpop journal (download + print or use with Goodnotes!)
---
Table of Contents
What Is Kpop Sound Check?
Before k-pop concerts get underway, the sound engineers have to make sure everything is in good working order. That includes the mics and in-ears the idols use, the soundboard and of course, the speakers.
The sound check is a chance to check for any issues before the actual concert begins.
Sound engineers need to make sure there are no bugs in the system so that the concert goes off without any problems. And that's a good thing if you're spending money to see your favorite artists perform live.
The idols want to sound their best and kpop fans want to make sure they're getting their money's worth. Soundcheck is meant to catch any technical errors that could affect the sound quality of the show.
Related post: How Long Are Kpop Concerts? [Ultimate Guide]
What Happens at a Kpop Sound Check?
Soundcheck takes place at the concert venue, usually on the day of the show several hours before it's scheduled to start.
VIP ticket holders will line up at a time set by the concert venue. You might be given a numbered wristband to wear in order to get inside.
It's not uncommon to wait in line for a few hours for the kpop sound check to get started. Once inside, VIP patrons are usually grouped together and told where to stand around the stage.
When the sound check begins, the idols will come out onto the stage.
You'll see them wearing casual clothes instead of stage outfits. They may start the sound check by giving their official greeting and introducing themselves.
Once introductions are over, it's time for the engineers to test the sound quality. They'll do that by having the group perform a few songs.
Kpop sound check is a chance for idols and their fans to relax and have a little fun, so it's not uncommon to hear them perform an upbeat song. Or they might perform a fan-favorite song to get the crowd energized before the show.
For example, here's a clip shared by an Atiny VIP of Ateez performing "Say My Name" during sound check at the Amsterdam stop of their 2023 Break the Wall European tour.
Once the group wraps up the sound check performance, they'll head backstage to prepare for the actual show.
At this point, you'll be hanging out in the concert venue until the show starts. There may be a gap of a few hours between the end of the sound check and the start of the show.
Related post: What to Bring to a Kpop Concert (20 Things You Must Never Forget!)
Is Kpop Sound Check Worth It?
Spending extra money to buy VIP tickets for the sound check event can absolutely be worth it if you want to see your favorite kpop idols up close on the day of show.
During sound check, idols may be more relaxed and in the mood to joke around with one another or the fans who have come to see them. You're also seeing them perform as part of a smaller group of people, versus seeing them alongside thousands of GA ticket holders.
Buying VIP tickets for sound check can also help you get the best access to seating for standing-room-only shows if you're getting to the venue several hours early. If you have assigned seating, you'll be watching the sound check from your seats.
Now, are there any downsides to attending a kpop sound check event?
Yes, starting with the cost.
VIP tickets can cost significantly more than regular kpop concert tickets. Depending on the show, VIP packages may be sold separately from tickets or there may be different tiers of VIP ticketing.
For example, global superstars Blackpink offered multiple VIP ticket options for their Born Pink tour. All three included sound check as a benefit but only ticket holders who purchased the most expensive package got early access to the event.
And it was not cheap. Two VIP tickets for the Blackpink world tour dates scheduled for Mexico City were selling on Ticketmaster for $35,400 MXN each, which works out to nearly $2,000 USD per ticket.
If your top priority is seeing one of the most popular girl groups in the world just a few feet away, then you have to decide how much you're willing to pay.
It's also important to consider whether VIP benefits, including sound check, will transfer if you're buying kpop resale tickets.
For example, Stays who tried to buy resale VIP tickets for the American leg of Stray Kids "Maniac" world tour were extremely upset to find out that VIP benefits were not transferable. Fans got great seats but they missed out on all the other perks of being a VIP, including access to sound check before the show.
How to Prepare for Kpop Sound Check
If you're going to your first concert or it's your first time attending the sound check, it helps to know what to expect.
Here's a simple kpop concert checklist you can use to get ready for sound check.
Check the timing. The concert venue or ticketing agent should let you know when the line-up for sound check begins. It's important to know what time the line opens so you have enough time to get to the venue for wrist banding. (If you're traveling from another city or country, remember this means checking the local time.)
Review the camera policy. Most k-pop concerts and venues ban professional cameras and equipment but they'll allow you to snap pics with your phone. However, you might not be able to take pictures during the sound check. Also, check to see if the venue allows selfie sticks, as many kpop concert events do not.
Be prepared to hang around. As mentioned, you typically cannot leave the venue once the sound check is over. So you'll need to be prepared to be at the venue all day until the show ends.
Check your merch budget. Buying kpop lightsticks or other official merch at the concert can be a great way to remember your experience but it can get expensive. If you're looking for official merch for your favorite male or female group, you can also search for kpop store retail locations near you where you might be able to find it cheaper.
Know the rules for food and drink. Most kpop concerts do not allow outside food or drinks inside the venue. You can usually buy snacks, bottled water and other drinks at the show but you might be limited to using major credit cards or debit cards to pay if the venue is cashless.
Leave banned items at home. Kpop concert venues usually have a list of things you can't bring in, including alcohol, illegal drugs, air horns and weapons of any kind. You can also get in trouble for selling unauthorized fan merch so if you run a kpop shop on Etsy, think twice about trying to sell any of your items at the venue. You could, however, hand out freebies with a note that includes your shop's URL and social media accounts.
Also, keep in mind that there might be age restrictions on who can attend sound check or be seated in the VIP/pit section without an adult present. For some venues, the cutoff is 16 while it's 14 for others.
Kpop Sound Check FAQs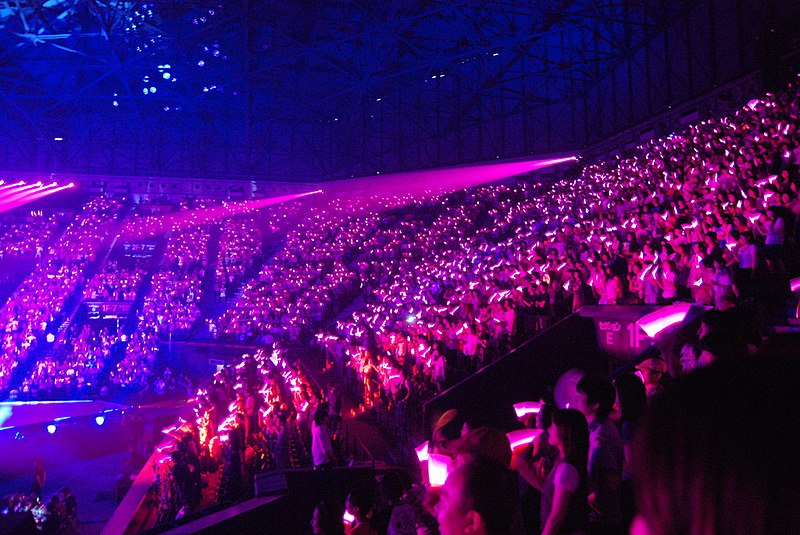 How do kpop soundcheck tickets work?
The sound check may be included as part of your regular ticket package or you might need to purchase sound check benefits separately as part of a VIP package. When you buy a soundcheck ticket, you're guaranteed access to the soundcheck event before the show starts. If there are multiple ticket tiers, you may be able to get priority access to sound check by purchasing a more expensive VIP package.
How many people are allowed at sound check for a kpop concert?
The number of people who attend a kpop sound check is usually determined by the ticketing agent or the venue. It's not uncommon to go to soundcheck with 50 to 100 other people, depending on the number of VIP packages that were offered for sale.
How much does sound check for a kpop concert cost?
The amount you'll pay for sound check tickets to a kpop concert can depend on what types of venues they're playing and who you're seeing. VIP packages with sound check for big names like BTS and Blackpink are naturally going to be more expensive than sound check for a newer South Korean group or one that has a smaller fandom. Generally, you might pay anywhere from $300 to $2,000 per ticket for a VIP experience.
What is the best time to get to the venue for sound check?
You'll want to get to the concert venue early so you have time to line up for VIP benefits. The venue should tell you when wrist banding for sound check will begin so you might want to give yourself one to two hours before that to get there, find a place to park and figure out where you're supposed to be to line up.
Where can you buy soundcheck tickets for a kpop concert?
There are several places you can buy kpop concert tickets online, including Ticketmaster, AXS and LiveNation. If you're interested in VIP ticketing with sound check access, you should be able to find packages offered through these sites or the main ticketing agent for the tour. You usually can't buy VIP tickets at the box office.
Final thoughts on kpop sound check
Attending a sound check can make your kpop concert experience more memorable, especially if it's your first time going to a k-pop show. Weighing the cost of VIP tickets against the benefits you might be able to get, including sound check access, hi touch access or special limited edition merch, can help you to decide if it's worth the money.
---
Save 10% in the Cute Frog Creations shop when you join our email list!
And get the latest blog posts + updates delivered to your inbox!
---
What tips do you have for making the most of kpop sound check?