Last Updated on October 2, 2023 by Eden
Heading to your first k-pop concert?
Seeing your favorite boy group or girl group in person for the first time can be a huge thrill. Knowing what to bring to a kpop concert is essential because you don't want to get to the concert venue, only to realize you've forgotten something.
If you need some pointers on how to prep for a kpop concert, you're in the right place! Here's a quick rundown of the most important things to bring to a kpop concert so you can have an amazing time.
---
Featured Item: Kpop Journal
Looking for a fun way to keep track of your favorite boy groups or girl groups? Check out this cute kpop journal (download + print or use with Goodnotes!)
---
Table of Contents
What to Bring to a Kpop Concert
If you're headed to your first kpop concert with your favorite artist, planning can seem a little overwhelming. And you might be tempted to bring a bunch of things you either don't need or won't be able to bring in.
So as you're making your list of what to bring to a kpop concert, here are all the must-haves you'll need.
1. Concert tickets
First things first, you'll need your concert tickets to get into the venue.
Depending on the ticket seller and the venue, you might need to have physical tickets or mobile tickets to get in. When Monsta X did their world tour in early 2022, for example, concertgoers received an email link to download physical tickets they could print at home but they had the option to use digital tickets as well.
Before you head out to the show, it's a good idea to double and triple check to make sure you have your tickets. And if you're using mobile tickets to get in, have the code pulled up on your phone so once your turn in line comes, you can breeze right through.
And if you purchased VIP tickets, you'll definitely want to make sure you have them. Otherwise, you might miss out on extras like sound check or hi touch after the show.
2. Phone/camera with extra memory cards
You'll probably want to share your best memories of the night with your kpop besties on social media. So your phone is next on the list of what to bring to a kpop concert.
Most phones nowadays have excellent cameras built-in with great video and sound quality, so you don't necessarily need to bring a separate camera. You'll just want to make sure your phone is fully charged so you don't miss a chance to get some pics or videos of your favorite k-pop star.
And keep in mind that some venues or artists might ban you from bringing in anything that falls under the category of digital recording devices, including hand-held cameras. For example, the "Permission to Dance" live tour events held in the United States in early 2022 didn't allow any recording or photography of any kind.
3. Portable charger
Your camera's power could quickly drain your phone's battery if you're taking lots of pictures or videos. So you might want to bring a portable charger, especially if you plan to go to the venue early.
For example, you might want to snap selfies with your concert buddies or do a live stream for your followers on social media. If you don't have a backup charger, you could end up with a dead phone just in time for the show.
When shopping for portable chargers, look for a higher mAh powerbank if you need to be able to charge multiple devices. Otherwise, a basic power bank should work just fine.
4. Lightstick
A lightstick is an important symbol in Korean culture, at least as far as kpop fans are concerned.
It might look like a glowing stick, but a light stick is actually a symbol of fans' support for their group and their unity as a whole. It allows them to make a deep connection with their artists and each other, even if it's just for one night.
If you don't have a lighstick, you might want to drop some cash on one before you go. You can purchase light sticks in advance through your favorite group or idol's official merch shop, though you might need to buy them early to allow for shipping. And you can scope out local kpop stores near you to see if they have any in stock.
Bonus tip: You can turn an ordinary lightstick into something unique by adding a personalized lightstick strap to show off your bias!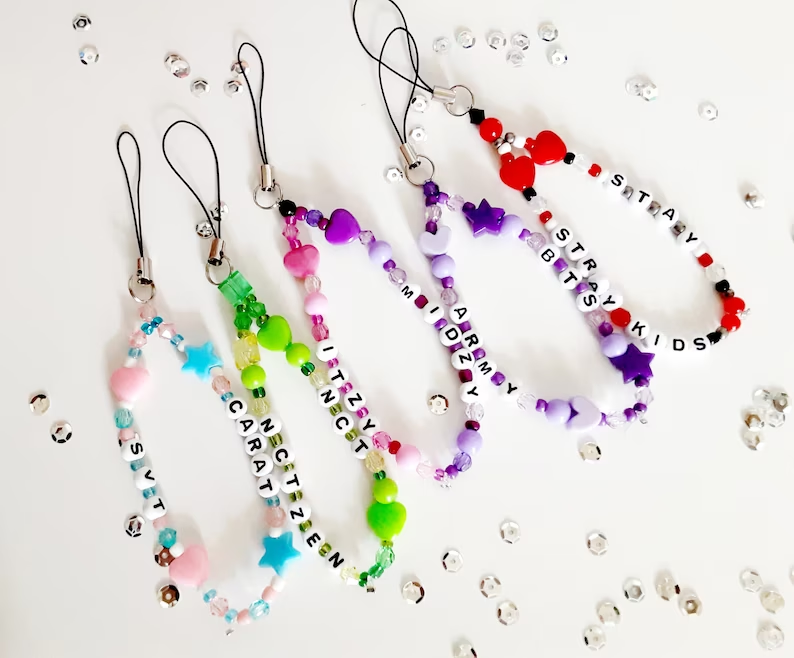 5. Extra batteries
If you're bringing a light stick to the concert, it's a good idea to bring some extra batteries as well. That's especially important if you're attending a two-day event.
Venues typically don't sell batteries on-site so if your lightstick dies, you'll want to have batteries on hand so you can quickly swap them out.
6. Banners or signs
One thing you'll see a lot of at kpop concerts are fan-made banners and signs. So if you're wondering what to bring to a kpop concert, those are both fun extras to have.
If you're planning to make signs or banners, check the venue's policies first. Your signs might need to be a certain size in order to be able to bring them in. And when holding them up during the concert, make sure you're not blocking anyone's view behind you.
7. Venue-approved bag
It's not unusual for kpop concerts to prohibit fans from bringing in extra large bags. You may, however, be able to bring in a clear bag or fanny pack to hold small things, like your phone and wallet.
If the venue allows bags but has a size requirement, be sure to measure your bag before you go. You can find some concert-approved clear bags on Amazon at a decent price and you can dress them up with buttons or photo cards.
8. Wallet with ID and money
If you plan to buy anything at the venue, whether it's extra water, official merchandise or something else, you'll need money to pay. So you'll definitely want to add a wallet to your list of what to bring to a kpop concert.
Now, should you carry cash or stick to debit and credit cards? It really depends.
Some of the venues for Seventeen's 2022 North American tour, for example, were cashless so you could only use debit or credit cards to pay. But you might need cash if you're paying parking fees or taking public transport to get from the venue to your hotel.
Taking at least one credit or debit card and a little bit of cash can help you cover the bases for anything you might need to buy while you're at the show. And if you're worried about your cards being lost or stolen, you can link them to Apple Wallet or Google Pay on your phone.
You'll also want to have your ID with you at all times. You may not need to show it at the venue, unless there's an age limit on who can enter without an adult.
9. Hand sanitizer or wipes
Kpop concerts can draw huge crowds. Reportedly, more than 200,000 ARMY packed in to see BTS in Las Vegas back in April 2022.
And with that many people, you're bound to run into a lot of germs. So hand sanitizer or wipes can help you freshen up and keep your hands clean when you can't get to a restroom.
Plus, you'll definitely want to have clean hands if you'll be meeting your faves at the hi touch after the show.
10. Masks, if required
More venues are making masks optional but it's possible that you might still need to have one to see a kpop concert indoors. And if you're traveling to South Korea to see your favorite artists, it's possible that you may need a mask even for an outdoor concert.
If you're not sure whether you need a mask or not, it might be better to err on the side of caution and take one or two with you.
11. Mints, gum or cough drops
Going to a kpop concert means you're going to be doing a lot of screaming, singing and of course, fan chants.
So you might want to bring some mints, gum or cough drops along to keep your throat from getting sore.
12. Tissues
Kpop concerts can have some emotional moments.
For example, during TXT's July 2022 tour stop in Atlanta, Beomgyu was absent from a few songs because he was feeling unwell. When the "Good Boy, Gone Bad" singer came back he was visibly upset, which had the other members and fans tearing up.
Even if you're not a sentimental type of person, you may still want to have some tissues on hand just in case.
13. Hair tie
Kpop concerts can get hot if you're outdoors or the indoor venue doesn't have great air conditioning. A hair tie can help you keep your hair off your neck so you stay cool during the show.
14. Binoculars
Binoculars can help you get a better view of the stage if you're sitting in the nosebleeds.
When choosing the best binoculars for kpop concerts, consider the field of view, how durable they are and magnification. And if you wear glasses already, you might want to look for a st of binoculars that takes that into account.
15. Earplugs
If you're going to a kpop concert, it's obviously because you want to see and hear your favorite artists in person. But the live audio can get pretty loud, especially when you're closer to the stage.
Ear plugs or headphones might need to be on your list of what to bring to a kpop concert if you're worried about the noise. And they're a good idea if you're taking younger kids to the show.
16. Mini first aid kit
Getting a headache at a kpop concert is an easy way to kill the fun fast. After all, it's hard to enjoy the show when your head is pounding.
Taking some pain reliever is a smart idea if you're worried about headaches. You can pack it, along with some bandaids and antiseptic wipes in a mini first aid kit.
17. Umbrella
Attending an outdoor concert can be a totally different experience from an indoor concert. The crowds can be much bigger, for one thing.
For example, the Kamp LA concert in Los Angeles, sponsored by Kamp Global and Eventim Live Asia was booked for the Rose Bowl, which has a capacity of over 90,000.
And of course, you're outside which means you're at the mercy of the weather. An umbrella is a good suggestion for what to bring to a kpop concert outdoors. And it can also come in handy if you're attending an indoor concert but you'll be outside for several hours before the doors open.
18. Bug spray
If you're going to any kpop concerts in the summer months, bug spray can keep you from being eaten alive before the show.
You can get a travel-size spray or bug spray wipes if the venue only allows clear bags or fanny packs that hold small things.
19. Sunscreen
When you're standing in line all day or tailgating at the stadium before the show, you could be setting yourself up for serious sunburn. Bringing along sunscreen to a kpop concert can keep you from ending up redfaced the day after.
20. Sanitary supplies
Female kpop fans know that getting a period is part of daily human life. But it can be a serious inconvenience when you're all set to head to a concert.
Packing extra tampons or pads is a must if you expect to be on your period during the show. And you might consider investing in some period underwear if you don't want to have to worry about stepping out to change tampons or pads.
Related post: Kpop Concerts Near Me: Free Kpop Concert Locator
What to Bring to a Kpop Concert FAQs
What do people wear to k-pop concerts?
Some people choose to wear cute or sexy outfits to k-pop concerts. Others may wear concerts that tie into a k-pop group's concept. For example, it's not unusual to see fans at a Stray Kids concert wearing outfits inspired by their "Thunderous" comeback or Ateez fans wearing Halateez outfits.
If you're the type of person who likes to be comfortable, on the other hand, the perfect outfit for you might be jeans or sweats. If you decide to go that route, you can complete your look with a t-shirt from the official merchandise stand and some comfy shoes.
Pinterest can be a great place to get ideas for what to wear to a kpop concert. You can also check social media for tips on what not to wear to a kpop concert.
What should you not bring to a kpop concert?
Some of the things you shouldn't bring to a kpop concert include weapons of any kind, alcohol and pets. The venue may also ban outside food and drinks so if you're hoping to bring in some granola bars or a water bottle, you might be out of luck.
It's a good idea to read the venue's policies carefully before you go to know what you can and can't take in. And if you're allowed to bring in drinks, make sure you have enough water to stay hydrated through the show.
Do you have to bring a lightstick to a k-pop concert?
Light sticks are not a requirement for k-pop fans and there are plenty of people who go to a k-pop show without bringing a lightstick. Having a lightstick can add to the fun, however, and k-pop artists always appreciate looking out into a sea of waving lights. There's nothing worse for idols than doing a show and seeing a black ocean.
Do they sell lightsticks at k-pop concerts?
Yes, the venue should have a stand selling official merchandise, including light sticks. So if you've arrived at the venue without a lightstick, that could be the perfect time to buy one. You can also look at local kpop stores near you to find lightsticks for sale.
Final thoughts on what to bring to a kpop concert
There's a lot of planning that goes into attending a k-pop show. You have to get tickets, book a hotel room, arrange for transportation and of course, you've got to learn your fan chants and get the perfect outfit ready. Knowing what to bring to a kpop concert before you go can help you have the best concert experience possible, without added stress.
Looking for some cute, handmade items for a kpop music fan? Check out the Cute Frog Creations shop!
---
Save 10% in the Cute Frog Creations shop when you join our email list!
And get the latest blog posts + updates delivered to your inbox!
---
What are your best tips for what to bring to a kpop concert?