Last Updated on June 11, 2023 by Eden
Getting ready for a kpop concert takes time and planning. You've got to secure your concert tickets, get familiar with the venue, choose the perfect kpop concert outfit and decide what to bring.
Along with a portable charger, water bottles and a handy tote bag to keep it all in, you might be wondering whether you'll need a lightstick.
Light sticks are a must-have item for k-pop fans who want to show their love for their favorite kpop boy group, girl group or soloist. But where do you get one and do kpop concerts sell lightsticks?
K-pop concerts can offer official lightsticks for sale at the concert venue. It's not unusual to see a merch booth set up where you can buy official kpop lightsticks, t-shirts, special photo cards, glow sticks and other items.
But is buying the lightstick of your favorite group at the show a good choice?
If you're set to see your favorite k-pop groups for the first time, here's what you need to know about kpop lightsticks and where to buy them.
---
Featured Item: Kpop Journal
Looking for a fun way to keep track of your favorite boy groups or girl groups? Check out this cute kpop journal (download + print or use with Goodnotes!)
---
Table of Contents
What Is a K-Pop Lightstick?
A kpop lightstick is a handheld device that's designed to light up and glow.
It's sort of like an upgraded mood light or flashlight but its meaning is much more special to Korean fans and international fans. If you've ever seen pictures of a kpop concert on social media, the lightsticks are hard to miss.
Kpop lightsticks are designed to connect them to the k-pop bands (or their fandoms) that they represent. For example, they might have the group's name or logo written on them or include symbols that the group incorporates into its concept.
Some kpop lightsticks are Bluetooth-enabled and have different modes. So they might cycle through several different light colors, blink, strobe or flash in sync with the music.
Kpop lightsticks can come in different sizes, though most are usually around 6 to 7 inches long. And it's not unusual for top groups to release multiple versions of their lightsticks with different designs.
Here are some examples of official kpop lightsticks.
ARMY Bomb
The ARMY Bomb is the official lightstick of Bangtan Sonyeondan, better known as BTS. Its name reflects its design — a mini glowing bomb.
ARMY Bombs are one of the most recognizable kpop lightsticks (and ARMY would say the best kpop lightsticks 🙂 ). And no BTS concert is complete without an ocean of lights.
Ateez lightstick (Lightiny)
Ateez is known for being one of the best k-pop dance groups as demonstrated by their live performance energy and stage presence.
Their lightstick is called 'Lightiny', which means light + destiny and its design reflects the group's pirate-themed lore.
TXT lightstick (MOABong)
Tomorrow X Together's official lightstick incorporates their initials, TXT, into the design for the lightstick's buttons. The lightstick also has the full group name written across the front.
NCT lightstick
The NCT lightstick glows a light green and it's a staple symbol of fans who call themselves NCTzens.
This kpop lightstick is unique because of its square shape which sets it apart from lightsticks that use a round or diamond shape.
Stray Kids lightstick (Nachimbong)
The official Stray Kids lightstick has a white handle and incorporates elements of black and red, as well as the SKZ logo, into its design.
Lightstick of Mamamoo
Mamamoo has one of the most interesting lightstick designs. It's shaped like a radish because "moo" in Korean translates to radish in English.
ITZY light ring
Instead of a light stick, Itzy has a light ring. The ring features a pretty white and glitter color scheme.
Seventeen lightsticks (CARAT Bong)
Seventeen has two lightsticks, both called the CARAT bong. The first version is white with a pink diamond while the second combines the group's official colors, serenity and rose quartz.
Monsta X lightstick
Monsta X is another group that has multiple lightstick versions. Both are black but the first version has a pinkish topper while the newer version has a clear and white topper.
Why Do Kpop Groups Have Lightsticks?
Kpop groups have been around longer than kpop lightsticks. During the early years of kpop when it was just beginning to take off in South Korea, fans would use color to support their favorite groups. So it wasn't uncommon to see fans at a k-pop show wearing clothing or carrying balloons that matched their group's colors while doing fan chants.
That changed when BIGBANG came along.
G-Dragon, who's the group's leader, main rapper, vocalist and face of the group, actually designed their official lightstick. In 2006, Big Bang revealed the Bang Bong which featured a "B" emblem and a crown design in yellow. (And you can still see plenty of their first lightsticks if you attend a Bigbang or GD concert.)
Later, more groups started following Big Bang's example and releasing official lightsticks of their own. Now, just about every kpop girl group and boy group has a lightstick and they encourage their fans to bring them to shows.
Why? Kpop group members love looking at a sea of lights.
There's nothing worse than an idol or group staring down a black ocean. A black ocean happens when fans turn off their lightsticks to send the message that they don't support a particular group during their live performance.
BTS notably received a black ocean at the Melon Music Awards in 2016 and again at the 2016 Golden Disc Awards, thanks to an ongoing dispute between ARMY and EXO-L, EXO's fandom.
Do Kpop Concerts Sell Lightsticks?
Kpop concerts can and do sell lightsticks. Whether you're going to a one-off concert for your favorite group or making multiple stops to check out a group on their world tour, you're almost always going to see a merch booth somewhere at the concert venue.
Why do kpop concerts sell lightsticks?
The simple answer is money. While kpop groups can rake in huge amounts of money from ticket sales and VIP packages, they also generate revenue from selling official merchandise.
Not every kpop fan owns a lightstick. But big companies like SM Entertainment or HYBE and smaller ones like KQ or Starship know that owning a lightstick is at the top of the list of priorities for plenty of other fans.
Where to Buy Kpop Lightsticks
Finding the right place to buy a kpop lightstick matters because you want to make sure you're getting official merch and not a fake or a knockoff. You also want to pay the best price for official kpop lightsticks so you don't get ripped off. And if you're ordering online you'll want to look for fast shipping so you're not waiting a long time to get your order.
Here are some of the best places to buy an official kpop light stick.
Daebak
Daebak is a must-shop site if you're looking for kpop lightsticks and merch but it's also great if you're a fan of kdramas or kcharacters. There's a huge selection of lightsticks and lightstick accessories to choose from and shipping is free on orders over $70. You can also use Buy Now, Pay Later here to stock up on all your favorite kpop merch, including kpop albums.
Shop now and save 5% at Daebak using code CUTEFROG
Kpopomo
Kpopomo is an excellent place to buy official kpop merch online, including lightsticks. You can find official lightsticks for plenty of top groups from the second generation, third generation and fourth generation. There's also a selection of lightsticks for solo kpop artists like Chungha and IU.
Cokodive
Cokodive is a trusted seller for official kpop goods and merchandise, including light sticks. You can find full-size lightsticks as well as keychain-sized versions so you can take your lightstick with you wherever you go!
Amazon
Amazon sells plenty of kpop merch, including lightsticks. I've purchased several lightsticks from Amazon, including two Ateez Lightinys and two Monsta X lightsticks.
If you expect to buy a lot of kpop merch from Amazon, an Amazon Prime membership could be worth it to get the free shipping. And if you don't have Prime yet, you can try it free for 30 days.
Just keep in mind that shipments from overseas sellers may take longer to arrive.
Shop kpop lightsticks on Amazon
Etsy
Etsy is a great place to shop for handmade kpop merch but you can also find people reselling kpop items here, including lightsticks.
If you're considering buying a lightstick from Etsy, take time to research the seller and check their reviews to make sure they're legit. And compare their prices to what you might pay for the same lightstick somewhere else to decide if it's a good deal.
(And while you're on Etsy, don't forget to grab a custom kpop lightstick strap!)
Weverse Shop
HYBE created the Weverse app to showcase its artists and the Weverse Shop is an extension of that. You can find lightsticks as well as exclusive items for selected artists here, including TXT, Enhypen, Seventeen and StayC.
Note: Weverse Shop limits the number of items you can include per order and shipping to the U.S. is a bit pricey.
Official group or company websites
While you're looking for lightsticks online be sure to check out your favorite group's official website or the company website. For example, you can visit the SM Global Shop to pick up merchandise from your favorite SM Entertainment groups.
Mercari
Mercari is an online marketplace where people can sell new and used items, including kpop merchandise. It's possible to find lightsticks for sale here if you're lucky enough to stumble on someone who's clearing out their kpop collection.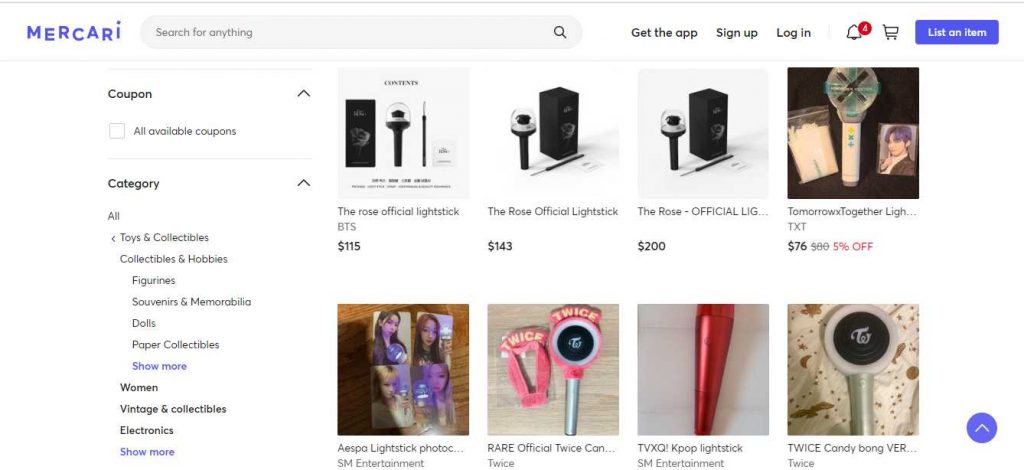 Local kpop stores
If you don't want to pay for shipping, you could buy lightsticks from a local kpop store near you.
Kpop stores are great because you can find albums, lightsticks, pins, picket fans–anything you need to have a great time at a kpop concert. And lots of kpop shops give you freebies like photo cards or posters when you shop and spend over a certain dollar amount.
Generally, it's a lot easier to find kpop stores in bigger cities. So if you live in Los Angeles, Atlanta or Washington D.C., for example, you might have multiple places to shop for kpop merchandise.
If you live in a smaller town, you might still be able to buy kpop lightsticks from a not-so-local store in the U.S. and have them shipped. It may be cheaper to buy your light sticks that way if a U.S.-based kpop store charges less than a Korean-based one.
Related post: What Not to Wear to a Kpop Concert (2023 Ultimate Fan Guide)
Do Kpop Concerts Sell Lightsticks FAQs
Do you need a light stick for a KPop concert?
You don't need a light stick to have a great time at your first kpop concert (or your next one). But carrying a lightstick and waving it throughout the show is usually the best way for fans to show their support while attending a concert of their favorite band.
Can I bring a lightstick to a concert?
Yes, most venues allow kpop fans to bring their lightsticks, though there may be exceptions.
For example, State Farm Arena allowed Stays and Carats to bring lightsticks when Stray Kids and Seventeen played Atlanta as part of their 2022 U.S. tour. But when Dreamcatcher was on tour in the United States, fans attending the New York show were not allowed to bring their lightsticks in.
If you're in doubt about whether you can bring a lightstick to your next concerts, check with the venue or the ticketing site. Ticketmaster, AXS and Live Nation may have information about lightsticks and other venue requirements listed for each date on a live tour.
How much are light sticks at concerts?
The amount you'll pay for a lightstick at a kpop concert will depend on the group and the venue. Generally, you can expect to spend anywhere from $50 to $100 for a kpop group's official lightstick.
Also, note that if you have VIP tickets to a kpop show you might be able to get access to exclusive merch that isn't available to the general public. And you may be able to shop the merch booth early so you can get your hands on the hottest items before they sell out.
That's something to consider if you're trying to decide whether the higher ticket prices for VIP status are worth it.
How do KPop lightsticks work at concerts?
With some kpop lightsticks, you just turn them on and they glow throughout the concert. You might be able to change colors or modes by pushing a button.
If your lightstick is Bluetooth-enabled the lights and patterns can change on their own, according to changes in the music. That's fun to see since some groups will create patterns with the lightsticks like this rainbow ocean Seventeen created for Pride Month during their 2022 Be the Sun tour.
The rainbow ocean from seventeen's be the sun concert. They really said, all of us are loved and valid. Happy Pride Month! Thank you, @pledis_17 🏳️‍🌈

pic.twitter.com/wFNt4OOPsn

— haru ❆ en- manifesto (@L0VEH00N) June 25, 2022
What to bring to a kpop concert?
If you're prepping for a kpop concert, it's a good idea to bring some things along to make the show more enjoyable. You might include the following items on your kpop concert packing list:
Lightsticks and batteries
Cell phone and portable charger so you can get some great photos of the show (note that professional cameras and digital cameras are usually not allowed)
Debit cards or credit cards if the venue is cashless
Mobile tickets or paper tickets if you're required to print them out
Cash to pay for parking or public transport to and from the show
Enough water to stay hydrated if you're standing in a long line before the show
Tissues, sunscreen and lip balm
A clear bag to hold everything in (that meets the venue's size requirement)
Remember to triple-check everything, especially your tickets. If the venue requires ticket holders to show a QR code to get in, have that pulled up and ready go on your phone so there's no hold-up in the line.
---
---
Final thoughts
A lightstick is not a requirement to attend a kpop show but it can make the experience more enjoyable, especially if it's your first kpop concert. And you don't need to go to kpop concerts regularly to own a lightstick either. Collecting lightsticks and physical albums or buying digital copies of albums are all great ways to support your favorite boy groups and girl groups.
Save 10% in the Cute Frog Creations shop when you join our email list!
And get the latest blog posts + updates delivered to your inbox!
How much do kpop concerts sell lightsticks for?