Last Updated on April 16, 2023 by Eden
Headed to a k-pop concert?
For many k-pop fans, the most important part of preparing for a live concert (or fan meeting) is choosing the right outfit.
Your kpop concert outfit is a chance to show off your personal style. And you might be wondering if your outfit is enough to get you noticed by your favorite idols.
A quick search on Google or social media for 'what to wear to a kpop concert' will turn up plenty of iconic looks that can inspire you to put together the perfect outfit. But are there any k-pop outfits you should avoid?
The last thing you want is to have your concert experience ruined by an uncomfortable outfit. Knowing what not to wear to a kpop concert can help you (and your fellow k-pop fans) to have an amazing time when your favorite artists take the stage.
This blog post is packed with helpful tips you can use to plan your own outfits when seeing your favorite groups!
Related post: Kpop Concerts Near Me: Free Kpop Concert Locator
---
Featured Item: Kpop Journal
Looking for a fun way to keep track of your favorite boy groups or girl groups? Check out this cute kpop journal (download + print or use with Goodnotes!)
---
Table of Contents
Do K-Pop Concerts Have Dress Codes?
Generally speaking, there's no official dress code or set of rules that dictate what you should or shouldn't wear to a kpop concert. Fashion trends in South Korea can influence k-pop fashion but there's plenty of room to express yourself and create outfits that suit your style or personality.
That being said, every concert venue is different when it comes to what k-pop fans can or can't wear to a kpop show. And the tour promoter may also have their own dress code rules, so there may be rules about what not to wear to a kpop concert.
The promoter or venue's rules might be specific or general in describing the kind of clothing that's prohibited.
For example, BTS Army attending the PTD Las Vegas concerts at Allegiant Stadium were prohibited from wearing attire that was deemed "inappropriate or offensive." That included clothing with any of the following:
Gang insignias
Obscenities
Inflammatory statements
Threatening or taunting messages
They were also subject to the stadium's clear bag policy, which many other venues have adopted.
If you're not sure what a venue's rules are, it's a good idea to read through them in advance of planning your trip. The last thing you want is to find out that the outfit you're wearing may require a last minute change on the day of the concert.
Related post: First Kpop Concert? 10 Things to Know Before You Go
What Not to Wear to a Kpop Concert
You might want to go all out when planning to see your favorite k-pop band or group, especially if you'll be close to the stage and you want to stand out. Asking the right questions can help you figure out what to wear or what not to wear to a kpop concert:
What type of concert is it? (i.e., an indoor concert or an outdoor concert)
Are my tickets in the standing area or will I be able to sit down?
Will I need to take public transport to get to the concert venue?
Am I going to be standing in line outside of the venue for a long time?
How long will I be at the venue? Is it a whole day affair?
What will the weather be like?
What's the best k-pop concert outfit or look for my body type?
With that in mind, here's what not to wear to a kpop concert in order to have the best time possible.
Uncomfortable shoes
Fancier shoes can complete your k-pop concert outfit but they aren't necessarily the most comfortable shoes. If you're going to be standing for long periods of time, those super-cute high heels might not be the best pair of shoes to wear if you want to avoid sore feet at the end of the day.
Chunky sneakers, on the other hand, can look just as cute paired with a pleated skirt, black leggings or a pair of skinny jeans. And your feet will be glad for the added comfort they provide.
Oversized hats
A hat can be a great accessory to any kpop concert outfit but it can also ruin the concert experience for the people behind you if they're constantly struggling to get a better view.
If you want to wear a hat, consider sticking with a simple bucket hat or a cute newsboy-style cap that you can decorate with enamel pins or buttons to showcase your favorite kpop group.
White clothing
White jeans, skirts or dresses might look amazing on but if someone spills something on you at a kpop show, you might experience instant regret over your fashion choices.
If you'd like to incorporate white into your kpop concert outfit, there are plenty of ways to do it.
For example, a white shirt or tank top, a pair of jeans in a dark wash and a cool moto jacket is a no-brainer combo that looks great and won't have you worrying about stains all night. And cropped or fitted white tees can look amazing with cute cargo pants and boots.
Chains or spikes
Chains might be necessary to complete a certain aesthetic for your kpop concert outfit.
For example, it's not uncommon to see Atiny at Ateez concerts wearing outfits inspired by the group's Hala Hala concept.
I'm not surviving this concert. RIP #ATEEZWORLDTOUR2022 #ATEEZ #ATINY #ATEEZCHICAGO #HALATEEZ pic.twitter.com/iO9txMVUvR

— Jenn (@KwynJae) January 18, 2022
But chains can be a real pain if you're constantly getting snagged on things (or other people). And spikes can be a safety hazard, even if they have dulled points. So when in doubt, you might want to leave both at home.
Too-revealing clothing
It's not unusual to see people wearing sexy outfits at kpop shows. And if you want to go that route, it's important to know where to draw the line on what's appropriate (and what isn't).
Outfits that reveal intimate body parts, for example, are likely to catch the eye of other concertgoers and maybe even your favorite idols. But anything that shows too much skin could also get you kicked out of the venue or even ticketed for indecent exposure.
Related post: Kpop Concert Etiquette: 10 Things Kpop Fans Should NEVER Do!
How to Plan a Kpop Concert Outfit
Social media is a great place to get ideas for what to wear to kpop concerts (or tips on what not to wear to a kpop concert).
For example, you can head to Pinterest to search for 'BTS concert outfit ideas' or check out Instagram or Twitter to see what Stays are wearing to see Stray Kids. There may be fan projects that involve coordinating outfits around bright colors or outfits that incorporate the names of the members.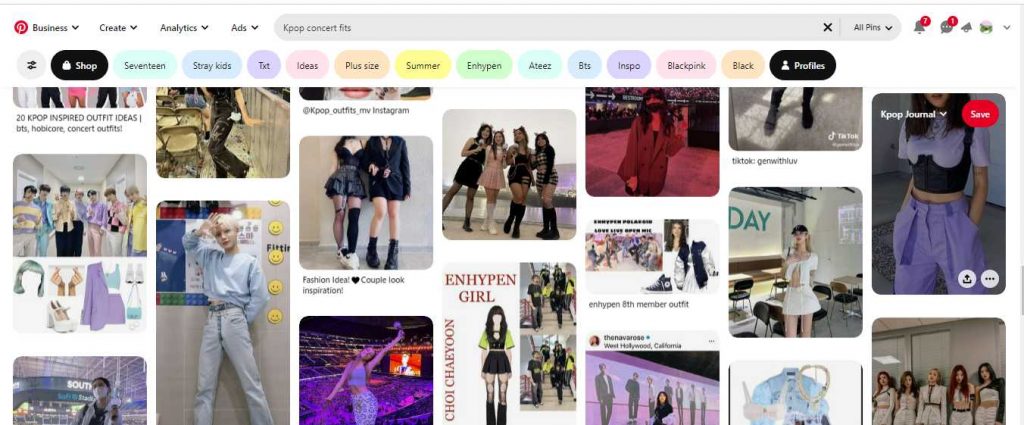 You can also check out the concepts or recent comebacks of your favorite k-pop groups to get inspiration.
For instance, if your favorite band or group has adopted a darker concept a black leather jacket might be a must for your outfit. On the other hand, if your favorite k-pop star just dropped an upbeat song you might go for a cute look instead.
Here are a few ideas for kpop concert outfit ideas:
Do the denim. Denim-on-denim is a popular choice for k-pop concepts. If you don't want to do head-to-toe denim, you could pick and choose from light wash or dark wash denim jackets, denim shirts, denim jeans, denim skirts or denim shorts to complete your kpop concert outfit look.
Slip into a school uniform. Schoolgirl looks are something else you'll see a lot of in Korean pop culture. A standard outfit might be a white shirt and sweater vest over a pleated skirt or a skirt and jacket combo with matching knee socks.
Music video match-up. Basing your outfit on a music video is another popular kpop concert outfit idea. If your favorite group has gone retro, for example, you could create an old school or throwback look to match their style. (To see what I mean, do a quick Google images search for Harry Styles Love on Tour concert outfit ideas.)
Once you've decided on your favorite thing to wear, you can complete the rest of your kpop concert checklist. Here are a few more things to do to get ready for a k-pop show and stay safe:
Make sure you have your tickets ready to scan at the door to the venue
Bring a valid ID with you if you're of age and plan to drink at the show
Check the venue's rules for bags (small bags are usually okay, but they may need to be clear)
Make sure you have enough water if you'll be standing outside the venue for a long time before the doors open
Consider whether you want to buy an official lightstick or other merch at the venue (you could also get them at a kpop store near you)
Have at least two payment methods on hand (cash and credit or debit card) to pay for anything you might need to buy at the venue
Plan how you'll get to the concert and back (i.e., public transport, Uber, your own vehicle, etc.)
If you're parking on-site, be aware of any additional fees you might need to pay
Learn your fan chants beforehand
If you're going with friends, have a plan for meeting up if you get separated
Here's one more tip: Try on your concert outfit before the show and have a friend take pictures of you from all sides. That way, you can see what the outfit really looks like and decide if it's comfortable enough to wear on the day of the concert.
Related post: What Is a Kpop Black Ocean? (8 Horrifying Black Oceans in K-pop)
---
💖Custom Kpop Lightstick Straps💖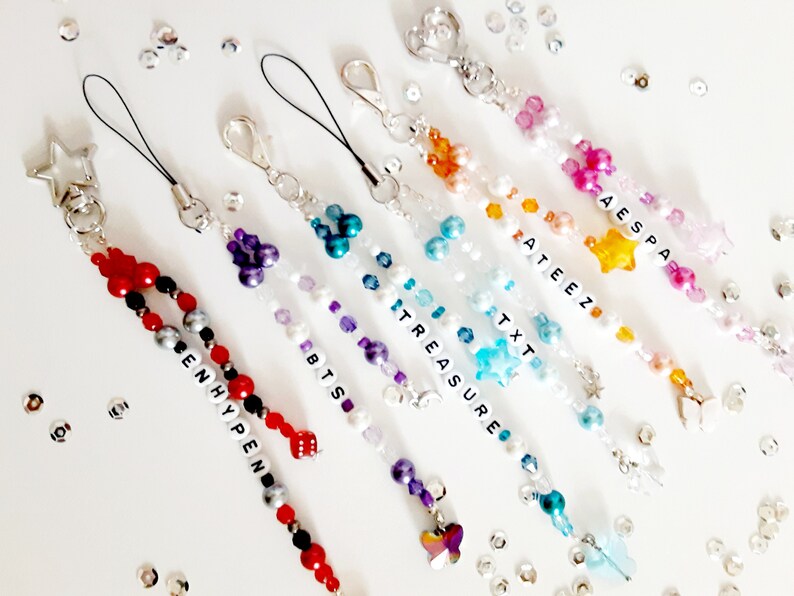 ---
Final thoughts on what not to wear to a kpop concert
Going to a kpop concert isn't that different from going to a rock concert or any other kind of concert. Finding the right outfit all comes down to deciding what's going to look great and be comfortable. And even if your outfit doesn't get you noticed by your bias you could still end up making some new friends if you're getting lots of compliments on your look.
---
Save 10% in the Cute Frog Creations shop when you join our email list!
And get the latest blog posts + updates delivered to your inbox!
---
What tips do you have for what not to wear to a kpop concert?