Last Updated on June 25, 2023 by Eden
Buying an official lightstick for your favorite kpop group is a great way to show your support as a fan. And no kpop concert is complete without an ocean of lights blinking back at the stage.
If you're wondering where to buy kpop lightsticks, your shopping options include official websites for your favorite groups, local kpop stores and online shops that sell official kpop goods. You can also purchase official lightsticks on Amazon.com, Mercari or even Etsy.
But where should you shop if you're looking for a specific lightstick? The best places to buy kpop lightsticks are shops that sell official merch at affordable prices and offer free shipping to kpop fans.
If you're ready to buy your first lightstick or you're shopping for official kpop lightsticks to add to your ever-growing merch collection, you're in the right place. We'll break down where to buy kpop lightsticks even if you don't live in South Korea.
---
Featured Item: Kpop Journal
Looking for a fun way to keep track of your favorite boy groups or girl groups? Check out this cute kpop journal (download + print or use with Goodnotes!)
---
Table of Contents
What Are Kpop Lightsticks?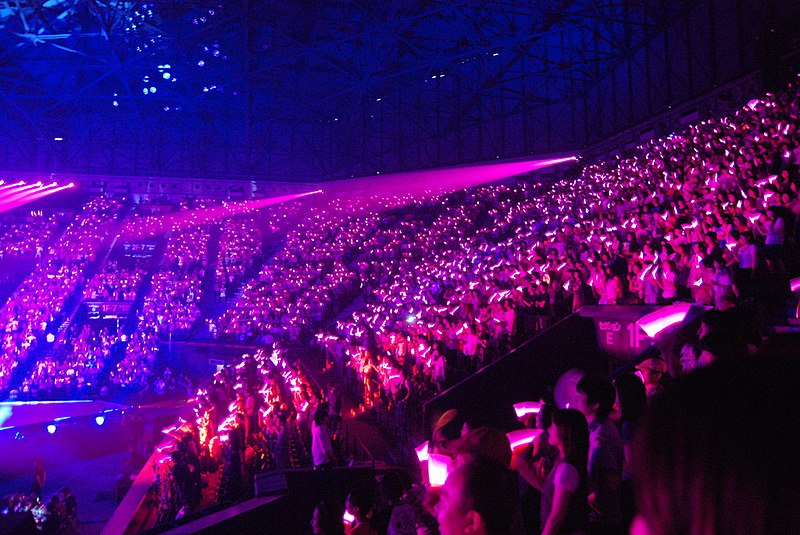 A kpop lightstick is a battery-powered handheld device that lights up and glows.
Kpop lightsticks can have different modes, with lights that blink, flash or strobe and some are Bluetooth-enabled. They can come in different colors and shapes, and they typically incorporate design elements that reflect the artist they represent, such as the group's logo or symbol.
Many kpop groups have official lightsticks, though not all of them do. And some kpop groups have more than one lightstick.
For example, Monsta X has an official light stick ver 1 and ver 2. There are also two official versions of Seventeen's Carat Bong, named after their fandom Carats. The Blackpink lightstick, the Bl-ping-bong, has two versions as well.
BTS has three versions of the Army Bomb, plus a special edition version. Fourth-generation group Ateez launched the second version of its official lightstick Lightiny in 2022, which comes in a pirate's treasure chest that reflects their overall concept.
Related post: Kpop Concert VIP Tickets: Should You Splurge?
Why Do Korean Groups Have Lightsticks?
The lightstick was developed during the second generation of kpop, with BigBang.
Back then, kpop fandoms used color to represent their favorite groups. It was common to see a k-pop fan wearing clothes in the main colors of their favorite groups or carrying balloons in the group's official colors.
That changed when BigBang leader G-dragon designed the first official kpop lightstick, the Bang Bong. Soon, other top groups began following suit and designing their own official lightsticks.
Now, lightsticks are common among various groups of different generations and are a staple of Korean culture.
Modern kpop lightsticks are often equipped with Bluetooth so they're able to sync up together at kpop concerts. And when you're not using them to show off your love for your favorite boy group or girl group, they can double as a mood light for your room.
Some of the most popular kpop lightsticks include:
Twice Candy Bong Z
Meumwonbong (the NCT lightstick)
Kimmanbong (Red Velvet lightstick)
Enhypen official light stick (Engene Bong)
Exo lightstick (Pharynx or Eribong)
Mamamoo lightstick
Stray Kids lightstick (notable for the silver compass design)
Itzy official light ring
Soloists can also have their own lightsticks. For example, Jeong Sewoon released the 'Lucky' lightstick in 2019. IU and Sunmi each have official lightsticks, as does former Monsta X member Wonho.
Related post: Kpop Concerts Near Me: Free Kpop Concert Locator
---
What Is the Best Kpop Lightstick?
It's natural for kpop fans to think their favorite group's lightstick is the best. But with so many beautiful lightsticks to choose from, it's hard to say that a single lightstick outshines all others.
Some of the best kpop lightsticks have a unique design and come with enhanced features.
For example, the latest version of the Ateez Lightiny syncs with an app that acts as a central control point, which is a significant upgrade.
You can log in to the app, select your seat at the concert venue and your lightstick will automatically change colors throughout the show. The first version of the Lightiny didn't have that; instead, you had to change colors using the manual mode.
The lightstick of Mamamoo, which has a green top with a white handle, is notable for having a radish design instead of the traditional globe or sphere shape many kpop lightsticks adopt. The radish shape was chosen because the 'moo' in Mamamoo sounds like the Korean word for radish.
Meanwhile, Day6 has an official light band, instead of a lightstick. And Dreamcatcher's lightstick can extend into a scepter.
Where to Buy Kpop Lightsticks Online?
There are multiple places to buy kpop lightsticks online but it's important to make sure you're shopping with a trusted seller. The last thing you want is to drop money on a counterfeit or fake lightstick.
With that in mind, here's where to buy kpop lightsticks if you're shopping online.
Daebak
Daebak is a one-stop shop for kpop lightsticks and merch. It's also a great place to browse if you're a fan of kdramas or kcharacters. Daebak has a huge selection of lightsticks and lightstick accessories, and shipping is free on orders over $70. You can also use Buy Now, Pay Later here to stock up on all your favorite merch, including kpop albums, without having to spend all your cash upfront.
💗Shop now and save 5% at Daebak using code CUTEFROG
Kpopomo
Kpopomo is an excellent place to buy official kpop merch online, including lightsticks. You can find official lightsticks for plenty of top groups from different generations. There's also a selection of official lightsticks for solo kpop artists like Chungha and IU.
Cokodive
Cokodive is another trusted seller for official kpop goods and merchandise, including kpop lightsticks. You can find full-size light sticks as well as keychain-sized versions so you can take your lightstick with you wherever you go!
Subkshop
Subkshop has tons of great kpop merch to choose from, including official lightsticks and lightsick accessories. There's no free shipping option here but shipping is fast. Just keep in mind that if you're placing an order that includes pre-orders, none of the items in the order will ship until the pre-orders are released.
💗Shop for lightsticks at Subkshop
Ktown4U
Ktown4u doesn't have the flashiest website. But they do have a solid selection of official kpop lightsticks for boy groups, girl groups and soloists. It's also a great place to shop if you're interested in buying Korean skincare and beauty products.
Amazon
Amazon sells plenty of kpop merch, including lightsticks. I've purchased several lightsticks from Amazon, including two Ateez Lightinys and both Monsta X lightstick versions.
If you expect to buy a lot of kpop merch from Amazon, an Amazon Prime membership could be worth it to get free shipping. And if you don't have Prime yet, you can try it for free for 30 days.
Just keep in mind that shipments from overseas sellers may take longer to arrive.
💗Shop kpop lightsticks on Amazon
Etsy
Etsy is a great place to shop for handmade kpop merch but you can also find people reselling kpop items here, including lightsticks.
If you're considering buying a lightstick from Etsy, take time to research the seller and check their reviews to make sure they're legit. And compare their prices to what you might pay for the same lightstick somewhere else to decide if it's a good deal.
Also, be sure to check out whether the lightstick you're buying is new or used. There's nothing wrong with buying used lightsticks, per se. But you do want to get one that works and isn't dinged up or damaged.
(And while you're on Etsy, don't forget to grab a custom kpop lightstick strap!)
Weverse Shop
HYBE created the Weverse app to showcase its artist. The Weverse Shop is where you can buy official merch, including lightsticks, for Hybe artists and other kpop groups or soloists.
💗Shop for lightsticks at Weverse
Note: Weverse Shop limits the number of items you can include per order. And the cost of shipping items to the U.S. is on the pricy side.
Official group or company websites
While you're looking for lightsticks online be sure to check out your favorite group's official website or the company website. For example, you can visit the SM Global Shop to pick up merchandise from your favorite SM Entertainment groups.
Mercari
Mercari is an online marketplace where people can sell new and used items, including kpop merchandise. It's possible to find lightsticks for sale here if you're lucky enough to stumble on someone who's clearing out their kpop collection, though it can be hit or miss.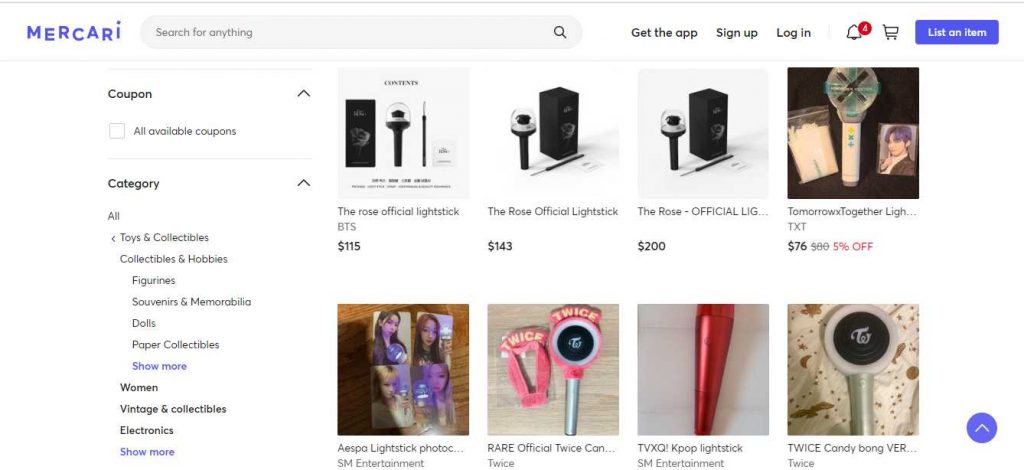 Again, though, you might be getting a used lightstick. So be sure to check out all the photos the seller posts and consider the cost, plus shipping, to decide if buying from Mercari is worth it.
💗Shop for lightsticks at Mercari
eBay
eBay is one more place you can look for kpop lightsticks online. You can find new and used lightsticks here, sometimes for less than what you might pay at an online kpop shop.
One thing to watch out for, however, is counterfeits. eBay attracts a lot of scammers so if you come across a deal on a lightstick that seems too good to be true, it probably is.
Where to Buy Kpop Lightsticks Near Me?
If you want to buy lightsticks locally, you can start by searching for kpop stores near you.
Kpop stores can sell all kinds of official goods, including lightsticks, lightstick accessories, concert signs, kpop albums, t-shirts, pins, keychains and even Korean foods like honey butter chips. The best kpop stores regularly get in shipments of new products, including lightsticks, while also carrying previous versions.
If you want to search for a kpop store near you, just type your zip code into the search box.
Note: Search results will open in a new window.
If you don't have a kpop shop near you, you might still be able to buy your lightsticks from them online. Before you buy, check to see how much you'll pay for shipping and how many business days it will take for your order to arrive.
Do Kpop Concerts Sell Lightsticks?
Yes, kpop concerts sell lightsticks. At the BTS concert in Las Vegas, for example, ARMY had the chance to buy Army Bombs along with official BTS merch.
If you're planning to go to a kpop concert, you can buy them at the concert venue. Kpop concerts usually have at least one merch booth selling official goods but there may be more than one if you're seeing a kpop show at a larger venue.
Should you buy kpop lightsticks at a kpop concert?
Maybe, if you can't find one anywhere else and you don't want to go to the concert without one. However, you might end up paying more for your lightstick than you would if you were to purchase it from an official online store or local kpop store.
And buying the lightstick at a kpop concert doesn't guarantee you'll be able to use it during the show.
At the Atlanta stop of Ateez's Break the Wall tour, there were people ahead of me in the merch line buying lightsticks. The only problem was the lightstick seller didn't have any batteries for them, since batteries typically don't come with the lightstick.
The seller sent someone out to a local Home Depot to buy batteries for the understandably frustrated fans. Whether they got them or not, I don't know. But that's an example of one thing that can go wrong when waiting until you're at the concert to buy a lightstick.
And buying the lightstick at the venue doesn't give you much time to read the user manual or figure out the different modes either. That could leave you scrambling to sync your lightstick or cycle through the various light options.
---
---
Final thoughts on where to buy kpop lightsticks
If you want to show your favorite group members your support at an upcoming kpop concert or simply complete your merch collection, knowing where to buy kpop lightsticks is a must. Whether you choose to shop online, at a local kpop store or at the concert venue, it's a good idea to shop around and compare prices to make sure you get the best deal. And if you're buying your kpop lightstick at a concert, remember to add extra batteries to your kpop concert packing list.
---
Save 10% in the Cute Frog Creations shop when you join our email list!
And get the latest blog posts + updates delivered to your inbox!
Do you have a tip for where to buy kpop lightsticks?